Fitness Retreat Vacations: 7 Destinations
Get a workout on your next vacation: Hike, bike, and do yoga at an upscale fitness retreat
Bree Sposato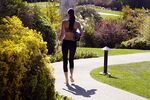 Feel good about using your vacation days—take a fitness retreat.
How difficult is the workout program?
☆ Refreshing
☆☆ Lightly taxing
☆☆☆ Challenging
☆☆☆☆ Rigorous
☆☆☆☆☆ You might pass out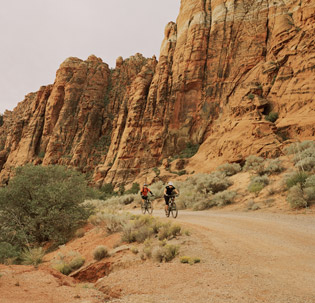 1/ Slim down in Utah
Red Mountain Resort's cluster of sandstone buildings sits in the yucca-dotted landscape between Utah's Zion and Bryce Canyon National Parks. You'll start each morning at the four-day, three-night Weekend Warrior boot camp with a hike past black lava formations and volcanic cones. Continue with a 90-minute personal training session and then a class of your choice (Pilates, Zumba, and others). Work is rewarded with gluten-free and anti-inflammatory dishes such as pan-roasted Baja sea bass with romesco sauce at the hilltop Canyon Breeze restaurant. (Ask for a table on the wraparound porch or by the fire.) Take the retreat seriously and learn how to intensify your workouts, or arrive after a convention in Vegas and use it to detox. 877 246-4453; redmountainresort.com; from $295 per night; Thursday-Sunday.
☆☆☆
TIP: Tack on an excursion to rappel down 150-foot Cougar Cliff with a Zion guide ($159).
2/ Get well in the Hudson Valley
Escape to Shape runs the Destination Detox program in a renovated 18th century house two hours north of New York. Weeklong retreats for all fitness levels are available through November—they come with transfers to and from the train station and are limited to 12 participants. A one-day juice cleanse (kale, lemon, and ginger) and a nutritional assessment set the tone for your stay, which includes activities such as three-hour hikes to landmarks like the Hudson-Athens Lighthouse, vinyasa yoga sessions, Pilates, and massages every other day. The program is more wellness-immersion than backbreaking boot camp. Meals are low-fat and often organic, but they're not all about calorie restriction. 601 818-8137; escapetoshape.com; from $1,500 per weekend and $3,500 per week.
☆☆☆
TIP: Take in a Boston Symphony Orchestra concert at Tanglewood, just 35 minutes away.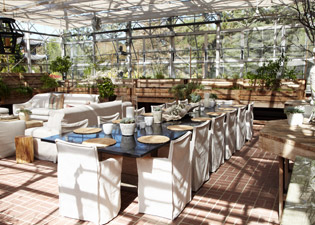 3/ Eat better in Malibu
The Ranch at Live Oak, which runs weeklong programs in Malibu, just launched a shortened four-day experience at the Four Seasons Westlake Village with busy executives in mind. Each day combines 8 to 10 hours of rigorous but low-impact exercise, starting with a four-hour morning hike through Solstice Canyon and then back-to-back classes focused on core work, toning and sculpting, and flexibility. A daily deep-tissue massage keeps things from getting too intense. Squeeze in diagnostic exams such as the VO2 Metabolic test, offered in partnership with the California Health & Longevity Institute; a cooking demo on preparing vinaigrettes and smoothies; and hypnotherapy, dermatology, and acupuncture services, all for an extra fee. If you must stay connected, you'll have access to Wi-Fi and the hotel's business center. The meal plan is a strict 1,400 vegetarian calories a day. Ouch. 888 777-2177; theranchmalibu.com; from $3,800; Thursday-Monday.
☆☆☆☆☆
TIP: Maximize program benefits by starting a vegan diet the Monday before you arrive.
4/ Tone up in Kauai
Boutique travel company Pure Kauai lets guests choose from several spectacular one- to seven-bedroom oceanfront villas on the island's wild North Shore. One property great for small groups is the Lake House (from $500 a night), which can fit up to four and comes with its own pool, spa, and pond. A concierge customizes an intense itinerary that combines surfing, weight training, yoga, and Pilates, and gives you a private staff of adventure guides and personal chefs. Your daily exercise is as rigorous or laid-back as you want it to be. Standout sessions include riding the waves at Hanalei Bay, practicing downward-facing dog on your own deck at sunrise, and paddleboarding along a nearby river. 808 828-6570; purekauai.com; from $300 per night; five-day minimum.
☆☆
TIP: Catch the sunset from the nearby St. Regis Bar, and sip a pineapple-mint caipirinha.
5/ Make a change in the Berkshires
The Canyon Ranch Executive Health Program is for businesspeople of any age and ability looking to undergo a lifestyle change. At the beginning of your stay, you'll get an in-depth medical assessment. The focus here is getting you to sustain a personalized wellness program; you'll leave with a binder crammed with results and recommendations—the team is even happy to confer with you or your doctor once you're home. Winter activities include cross-country skiing on the grounds, and summer might mean a 15-mile hike to summit Mount Greylock, the highest peak in Massachusetts. Office-focused feng shui and memory enhancement consultations complement active pastimes such as competitive rowing and a course for business types on staying fit while traveling. 800 742-9000; canyonranch.com; four nights from $3,410, including deluxe accommodations, a $650 wellness credit, all meals, airport transfers, and more.
☆☆☆☆☆
TIP: Book the 80-minute Muscle Melt spa treatment ($250), created in Thailand to ease the aches and pains of warriors returning from battle.
6/ Recharge in Maui
On the island's quiet eastern shore, Travaasa Hana's 47 plantation-style cottages—each with its own outdoor shower and enormous bathroom—are perched on a sloping lime-green bluff over Hana Bay. The daily mix is entirely up to you. Sign up for vinyasa yoga in an open-air pavilion, paddleboarding, horseback riding across the plains, outdoor circuit training, or runs along the Pacific. Calories are listed on the restaurant's menu, but this is not the kind of place to slap you on the wrist when you reach for one more mai tai. If you need a break, traditional Hawaiian cultural activities such as learning to catch manini fish with a handmade net are available. Round out the experience with a lomilomi ("break apart") massage, which pummels aching muscles, or simply float in the water as a massage therapist supports and moves your body in ways that release tension. 888 879-2389; travaasa.com; from $350 a night, including accommodations and daily programming, or $600 a night for the above plus all meals and a $125 daily spa credit.
TIP: Get a digital detox: Hand over your phone and other devices to the concierge for safe storage.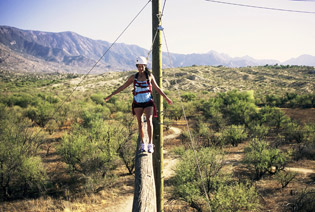 7/ Sweat in Arizona
Politicians (John Kerry) and media giants (Oprah Winfrey) visit Miraval Arizona Resort & Spa's adobe-style casitas, set on 400 acres 55 miles north of Tucson in the Sonoran desert. Highlights among the 165 classes include balancing atop and jumping off a 25-foot pole (with a harness); an outdoor high-energy circuit class; an indoor boot camp; and an all-day rock-climbing excursion to 9,157-foot-high Mount Lemmon. The resort recently renovated the Miraval Life in Balance Spa with Clarins; treatments—such as a massage using hot basalt stones—now take place in tents in a botanical garden. Meals are low on calories and high in protein, but they're actually pretty good—expect carne asada beef skewers and butternut squash risotto. 800 232-3969; miravalresorts.com; from $349 per night, including all meals, a $50 nightly credit, and more.
☆☆☆
TIP: Time your stay with the Chef's Night In series. One weekend a month, an acclaimed chef such as Jason Santos (Nov. 22-23) or Food Network star Alex Guarnaschelli (January) prepares a four-course meal with wine pairings ($198).
Before it's here, it's on the Bloomberg Terminal.
LEARN MORE