Dr. Martens Sells Out, With Help From Miley Cyrus
by
Dr. Martens, a British bootmaker built on five decades of punk sensibility, is selling out to private equity. R. Griggs Group, the family-owned parent company of the famed footwear, is being snapped up by Permira for $485 million in a deal expected to close in January. Permira, which helps manage $30 billion, has stakes in Hugo Boss, New Look, and Cortefiel, a massive Spanish retailer.
The private-equity buyer may not jibe entirely with the brand's marketing mantra—"We stand for nonconformity"—but the timing looks pretty good for the family behind the burly combat boots. Dr. Martens is having a fashion renaissance that recalls its 1990s hey-day, thanks to celebrities such as Miley Cyrus, who sports a clunky pair of cherry-red Docs (and little else) in her recent Wrecking Ball video. Momentum had picked up before the attention-getting video, with sales increasing 27 percent in 2012, to $259 million.
So how good of a deal did Dr. Martens get? Decent but not stratospheric. The offer price as a multiple of annual revenue, one common back-of-the-envelope measure, was in line with the current market values of Steve Madden and Wolverine World Wide but a fair bit behind Nike.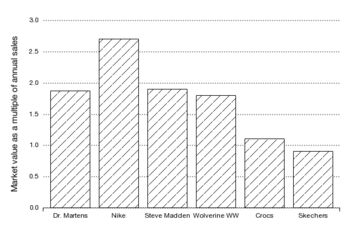 Where Dr. Martens stomps the competition, however, is on the profit front. Its margin of late has been a lofty 12 percent, one of the best in the shoe business. How's that for nonconformity?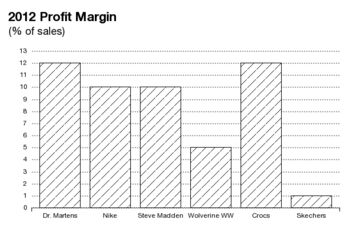 Before it's here, it's on the Bloomberg Terminal.
LEARN MORE