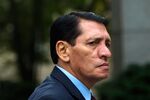 Picture this courtroom drama: With $19 billion at stake, Chevron's lawyers call to the stand a bribe-taking former judge to describe how he drafted phony rulings in a major pollution case. Chevron admits that, quite apart from his earlier graft, the company has paid the disgraced ex-jurist tens of thousands of dollars in a deal for his testimony. And still, the guy sounds pretty believable—at least under friendly questioning.
The odd scene—part John Grisham, part Gabriel García Márquez—unfolded yesterday in federal court in New York. Chevron is suing a plaintiffs' attorney who won a $19 billion oil-contamination verdict against the oil company in Ecuador. In a bid to undermine that potentially expensive judgment, Chevron has accused the attorney, New York-based Steven Donziger, of masterminding an elaborate extortionate conspiracy. Central to the alleged plot is one Alberto Guerra, a former Ecuadorian judge who is now cooperating with the company and testifying about how he helped Donziger fix the 2011 pollution verdict.
Donziger denies wrongdoing. Needless to say, he also questions Guerra's credibility. In court, Donziger glared silently as the diminutive Ecuadorian spoke.
In an e-mail sent late yesterday, Donziger's spokesman, Chris Gowen, noted that since the trial began Oct. 15, Chevron has presented a series of well-paid expert witnesses to describe Donziger's misconduct. Gowen called Guerra "the most extravagant extortionist of them all."
Guerra acknowledges taking tens of thousands of dollars from Chevron. Citing concerns about his safety, the company has relocated his extended family from Ecuador to the U.S. and paid their living expenses. Guerra admits that as a lawyer and judge in Ecuador, he collected and accepted bribes. He lost his judgeship in 2008 amid allegations of improper conduct.
While on the stand, Guerra told his sordid tale in a calm, convincing way. Dressed neatly in a light-gray business suit, he spoke without hesitation in Spanish. Via a translator, he matter-of-factly described an Ecuadorian court system so rife with corruption that his own felonious behavior sounded merely routine.
Asked at one point by Chevron's lead lawyer, Randy Mastro, why the plaintiffs did not always prevail in the bought-and-paid-for rulings Guerra ghostwrote for a fellow judge, Guerra responded evenly: "It would seem much too obvious." He added: "That would have looked suspicious, and the idea was for it not to look suspicious."
In late 2003, Guerra presided over the initial stages of a lawsuit against Chevron that Donziger engineered on behalf of thousands of rain-forest residents who allege massive harm from oil contamination. Later, supervision of the case shifted to other judges. Guerra testified that he essentially went into business with one of those subsequent judges, ghostwriting interim rulings that generally—although not always—favored Donziger's clients. Guerra said that he received monthly $1,000 cash payments from Donziger's legal team in Ecuador.
Guerra also asserted under oath that he and the other judge, Nicolas Zambrano, offered their services to both Chevron and the Donziger team. Chevron turned them down, but Donziger agreed to play ball, according to Guerra.
In testimony expected to continue today, Guerra will elaborate on the culmination of all of this alleged chicanery—Zambrano's supposed agreement to allow Donziger's team to draft the $19 billion judgment in exchange for a promise of $500,000 to be paid to Zambrano out of the plaintiffs' recovery. Donziger has denied that part of the story, too.
Zambrano, who has also been fired as a judge under a cloud of alleged corruption related to drug trafficking, has likewise denied wrongdoing. Donziger's side has said they will put Zambrano on the stand in New York to refute his former colleague Guerra. Don't hold your breath, though. Zambrano failed to show for an earlier-scheduled deposition, and much mystery surrounds his whereabouts and intentions.
Once Guerra has finished laying out his version of how Chevron ended up facing a $19 billion legal bill in Ecuador—one the company vows it will never pay—Donziger's lawyers will have an opportunity to cross-examine him. That will doubtless be a long and unfriendly exchange. Guerra's equanimity and credibility will both be put to the test.
Before it's here, it's on the Bloomberg Terminal.
LEARN MORE