Buyout Firms Clash Over Energy Future Holdings, the Biggest-Ever LBO
Money managers wrangle over the remains of the biggest-ever LBO
by and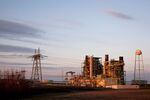 Private equity firms and hedge funds are fighting over the carcass of Energy Future Holdings, a Dallas-based power company on the verge of bankruptcy. KKR, Goldman Sachs Capital Partners, and TPG Capital, which led the $48 billion leveraged buyout of what was called TXU in 2007, may end up with less than 3 percent of their initial investments.
The buyout group is negotiating with Energy Future's senior creditors, including Apollo Global Management and Centerbridge Partners, which are poised to seize control of the company. A prolonged battle could leave less for creditors. "We see bigger potential for value leakage if this bankruptcy restructuring turns highly contentious, highly litigious, and disorganized," says Jim Hempstead, an analyst at Moody's Investors Service.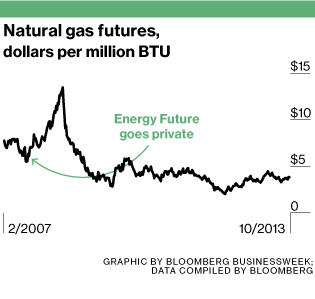 Energy Future, with debts totaling $43.6 billion, is due to make $270 million in interest payments on Nov. 1. Before beginning reorganization talks with creditors this year, Energy Future had been negotiating maturity extensions and principal reductions on some loans and bonds. A Chapter 11 filing, which could come anytime, would be the fifth-biggest nonfinancial corporate bankruptcy in the U.S., according to the UCLA-LoPucki Bankruptcy Research Database, which ranks companies by assets.
The buyout was done on the assumption that rising gas prices would push up the cost of electricity, allowing the company to charge higher prices and earn bigger profits. Instead, gas prices fell as the development of hydraulic fracturing created a surge in supply, triggering 10 straight quarterly losses for the company starting in 2011. Centerbridge, Apollo, Oaktree Capital Group, and other funds bought the company's secured debt as its prospects dimmed. They'll probably gain majority ownership of Energy Future, based on three proposals disclosed in an Oct. 15 regulatory filing and according to people with knowledge of the negotiations. In a plan that was rejected by one group of creditors, secured lenders would have received all the equity in the restructured company while the current owners would have shared $800 million with two sets of unsecured debt holders, according to the filing.
The biggest losers will be the three architects of the deal, who may see most of their $8.3 billion original investment erased. KKR and TPG together put up $3.5 billion, and Goldman Sachs added $1.5 billion. An additional $3.3 billion came from clients of KKR, TPG, and Goldman, and from Lehman Brothers, Citigroup, and Morgan Stanley. KKR and TPG both value their investment at 5¢ on the dollar, according to a regulatory filing by KKR and a TPG quarterly report. Spokesmen for the buyout group, and Energy Future, Apollo, Oaktree, and Centerbridge, declined to comment or didn't respond to interview requests.
The rest of the $48 billion deal—still the largest buyout on record—was funded with debt. Warren Buffett's Berkshire Hathaway bought about $2 billion of the power producer's bonds in 2007, according to his 2012 annual letter to shareholders. Berkshire wrote down the investment by $1 billion in 2010 and by an additional $390 million the next year, the letter said. "In tennis parlance, this was a major unforced error by your chairman," Buffett wrote.
The buyout firms paid $69.25 a share for TXU, a 15 percent premium over the company's share price when the deal was announced in 2007. Natural gas prices have plunged 72 percent from a July 2008 peak to Oct. 21, as shale drilling has expanded, depressing rates the company could charge for its electric power. That left the renamed Energy Future unprofitable at the same time its interest expense soared threefold because of the added debt, Bloomberg data show. Energy Future, which has enough power-generating capacity to supply nearly 20 percent of Texas' peak demand, lost $3.36 billion in 2012.
KKR, TPG, and Goldman have extracted some cash from the debacle. Energy Future paid them about $575 million in fees through June 2013, regulatory filings show: $300 million for advising on their own buyout, management fees totaling $210 million, and as much as $64.3 million for consulting on debt deals. "The investors take an ice-water bath," says Erik Gordon, a professor at the University of Michigan's Ross School of Business, "while the fund sponsors and the accountants, consultants, and lawyers lucky enough to have helped out keep their take and put on their most contrite faces."
Before it's here, it's on the Bloomberg Terminal.
LEARN MORE