Big Business Tries to Unseat the Tea Party
But the public trusts executives even less than politicians
By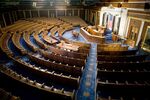 Michigan Representative Justin Amash arrived in Congress in 2011 as a darling of the Tea Party movement and hasn't disappointed the faithful. He's never missed a vote. He told House Speaker John Boehner that he wasn't welcome in his Grand Rapids district. On Oct. 1 he stood with fellow Republicans who forced the government to shut down.
The shutdown, and the default scare that ensued, widened the fissure between Tea Party Republicans and the business establishment. Now business groups are considering fielding their own candidates in the 2014 Republican primaries and redirecting their ample resources to deposing Tea Party stalwarts like Amash. "We are going to get engaged," says Scott Reed, senior political strategist for the U.S. Chamber of Commerce, which spent more than $35 million on elections in 2012, the vast majority of it on behalf of Republicans. "The need is now more than ever to elect people who understand the free market and not silliness."
Other groups, including the National Federation of Independent Business, have also expressed unhappiness with Tea Party politicians. Dirk Van Dongen, president of the National Association of Wholesaler-Distributors has branded them "the Taliban minority." Amash shrugs this off. "It's mostly a Washington-lobbyist-driven effort that won't have a lot of sway back home," he says.
Nevertheless, on Oct. 8, Amash drew a challenger in next year's GOP primary. Grand Rapids businessman Brian Ellis declared in his announcement speech: "Amash has turned his back on our conservative principles by voting against the Paul Ryan budget that would cut spending by $5 trillion and against a 20 percent tax cut for small businesses." Other Tea Partiers in districts from Idaho to Michigan to Alabama are also being eyed as potential targets by business interests. Amash considers Ellis's challenge "bizarre" and says "Republicans aren't looking for pro-big government, pro-corporate welfare candidates."
With the Tea Party's approval ratings at 26 percent, business groups sense an opportunity to oust lawmakers like Amash who brought about the shutdown. But they'll have a harder time doing that than most people realize. While the business community may recoil from Tea Party excesses, Republican voters generally do not. A July Pew Research Center survey of Republicans found that Tea Party supporters make up half of primary voters and significantly outnumber moderates. And while Republican voters disagree about which direction the party should take, more of them would like it to become more conservative (54 percent) than more moderate (40 percent). A subsequent poll showed the shutdown did not shake these voters' resolve.
"I think we are the true business wing of the party," says Michael Needham, chief executive officer of Heritage Action for America (and a Stanford Graduate School of Business alum), which helped organize the GOP push to defund Obamacare. "Most Americans intuitively know something's wrong when the only way you can get a fair hearing in Washington is if you hire scores of lobbyists. We're the ones that represent free enterprise and entrepreneurship."
Then there's the matter of just how compelling voters would find a candidate explicitly identified with national business groups. As a lavish source of political money, business leaders are always popular in Washington. But five years after the financial collapse, they remain toxic with most voters. Remarkably, while an April Allstate/National Journal poll found that only 17 percent of respondents thought Republican elected officials were "making things better for middle-class Americans," CEOs of major corporations fared even worse (15 percent). President Obama did much better, at 36 percent.
Finally, business leaders don't all agree the shutdown was a disaster. One of Amash's biggest donors is Doug DeVos, president of Amway, which is based just outside Grand Rapids. The DeVos family and others affiliated with Amway have given Amash more than $72,000. A spokeswoman for the company says DeVos's support hasn't wavered. "You've always got to stand on principles," DeVos told the Washington Post a week into the shutdown. "Without that, how can you ever negotiate or talk to people about anything?"
— With assistance by Michael C. Bender
BOTTOM LINE -
The bottom line: The U.S. Chamber of Commerce may work to oust congressmen who forced the government shutdown.
Before it's here, it's on the Bloomberg Terminal.
LEARN MORE