At the Vatican, Bling Is Now Officially Out of Style
By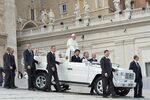 There's a new austerity movement in Europe—and Pope Francis is leading it. On Oct. 23, the pope suspended German bishop Franz-Peter Tebartz-van Elst, dubbed Bishop Bling by critics after he built a €31 million ($43 million) residence in the diocese of Limburg. "The Holy See deems it appropriate to allow the bishop time away from the diocese," the Vatican said in announcing his suspension, pending an audit of the construction expenses.
Since his first day, the new pope has confirmed the reputation for frugality he earned in his native Argentina. He shunned a Vatican apartment in favor of two rooms in a guesthouse for priests. Instead of the bomb-proof Mercedes used by his precedessor Pope Benedict XVI, he has made official visits in a 20-year-old Fiat.
Now he's making clear that he expects other Catholic clerics to follow his lead. "Let your style of service to the flock be that of humility, I would say even of austerity and essentiality," he said in an address in September to a group of recently appointed bishops.
The pope's austerity campaign could crimp the style of clerics in Germany, former Pope Benedict's native country. Most German bishops travel in chauffeured Audi, Mercedes, or BMW luxury sedans, the magazine Der Spiegel reports. Reinhard Cardinal Marx of Munich lives in a palace that was recently renovated at a cost of about €6.5 million. The Munich archdiocese also spent about €10 million on a villa in Rome, the magazine says.
The high cost of Limburg Bishop Tebartz-van Elst's residence spurred outrage among parishioners, some of whom demanded his removal. The bishop is also accused by prosecutors of making false statements on affidavits about business-class flights he took to India.
Before it's here, it's on the Bloomberg Terminal.
LEARN MORE