Apple's Location-Tracking iBeacon Is Poised for Use in Retail Sales
Location-tracking iBeacon is already on millions of devices
By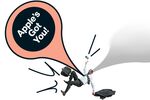 Apple's product event in San Francisco on Oct. 22 featured the expected upgrades to the iPad and MacBook lines, with better processors, sharper displays, and increased battery life. The bigger news was quietly rolled out a little more than a month ago, when Apple unleashed iOS 7 onto the world. Embedded in the mobile operating system's flashier interface and multitasking features is a new technology called iBeacon that can pinpoint your location to within a few feet.
Search Google for "Apple iBeacon" and you won't get any results from Apple.com. Look for the term on the company's website, and you'll get one hit, a link to Apple's list of trademarks. IBeacon is software that enhances the location-tracking services in an iPhone, an iPad Mini, or any device running iOS 7. For retailers desperate to turn smartphones from distractions into a sales tool, it provides a quick way to target ads and other messages to consumers as they walk through a store. For Apple, it's a chance to collect valuable shopping data and to build a mobile-payment platform into a dominant retail standard. Apple declined to comment. "IBeacon's momentum is just getting started," says Hari Gottipati, an independent tech consultant in Phoenix, "but it's going to explode faster than anyone can imagine."
Prior to iBeacon, iPhones and other Apple mobile devices relied on GPS and Wi-Fi tower triangulation to track their location. Those are great technologies and remain part of iOS, but they're only precise within 30 feet or so. That's fine if you're walking into an airport; iOS Passbook users already see their boarding pass pop up when they arrive at their terminal. GPS and Wi-Fi are less useful in smaller spaces such as stores. IBeacon can nail down device location more precisely because it uses Bluetooth Low Energy, a new version of the ubiquitous wireless standard.
Bluetooth LE solves a lot of the problems of other tracking technology. GPS signals get fouled up by walls and other objects, cellular triangulation requires a strong wireless signal, and standard Bluetooth quickly drains a phone's battery. Bluetooth LE can run constantly, announcing your phone's presence to nearby devices with the short-distance accuracy of a conventional Bluetooth at little cost to battery life. Major League Baseball is an early adopter. "Say you walk into a ballpark," says Adam Ritter, senior vice president of wireless at MLB.com. "We can push a coupon to your phone not when you enter the stadium, not when you walk by the gift shop, but when you actually step inside the store."
Beyond detecting your entrance, the software could send you messages that lead to a particular garment. "With iBeacons you can target the customers with more personalized offers based on preferences, history, or the current location within the store," Gottipati says. "The more you personalize, the higher the chances are to up-sell to a customer." Along with coupons, iBeacon can store credit card information to pay for purchases.
For the past couple of years, the next big location-services technology was supposed to be near-field communication, which appeared on some smartphones and tablets running Google's Android operating system. Developed largely by Nokia, Philips, and Sony, NFC's selling point was that you could just tap your phone onto a cash register to make a payment from your online wallet, which would make things secure, convenient, and—let's not forget—futuristic.
Except NFC requires a chip not all devices carry. NFC's range is so short that a store can't do much more than jazz up payments with it; it also requires credit card companies to cooperate. With iBeacon, retailers can count among their audience everyone with a new or updated iPhone or iPad. "Bluetooth LE is so much better," says independent tech consultant Steve Cheney in New York. "Not only is it already in every single iPhone dating back two years, Android can support this, too, when Google catches up in software."
Retailers have to invest some money to make their spaces iBeacon-friendly, but the cost isn't onerous. IBeacon's range is about 84,000 square feet, Gottipati says. A typical Macy's store of 175,000 square feet would need two or three iBeacon transmitters. Third-party manufacturers such as Estimote sell a three-pack for $99.
Retailer American Eagle Outfitters has been using NFC systems since 2011, but the technology has accounted for less than 0.1 percent of transactions, says Joe Megibow, the company's senior vice president of e-commerce. "Technically, NFC's worked pretty well," he says, "but as far as satisfying a customer need, it's been really, really small."
Major League Baseball plans to roll out an iBeacon program at stadiums next year. Visitors at participating stadiums who have MLB's At the Ballpark app will get map guidance to their seats, offers at concession stands, and other coupons. Stand near the giant apple that sits in home-run territory at the New York Mets' Citi Field, and a video about it will be pushed to your phone. "Watching a ballgame is an experience," says MLB's Ritter. "We want to enhance the whole experience."
That's another advantage iBeacon has over NFC: It's not just a payment system. "There are opportunities for marketing and selling that don't play in the NFC world," Megibow says. After two years with NFC, American Eagle is ready to try something new. "By this holiday shopping season," he says, "we'll have iBeacons in our stores."