An MBA Guide to Navigating Company Politics Goes Online
Francesca Di Meglio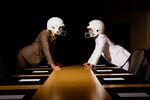 A new online course on power and politics was offered to MBA students for the first time this semester at the University of California at Berkeley's Haas School of Business.
The seven-week course, which ended Oct. 8, was a condensed version of the in-person class that has been taught for years. The class is part of an expansion in online course offerings at Haas, which added a course in social media this fall and plans to add a class in game theory next year, says Haas spokesperson Ute Frey. "We are shifting a portion of selected core courses into digital format to improve learning outcomes for our students," Frey says.
Forty people, mainly part-time MBA students, took the power and politics course this time around. But Professor Cameron Anderson says he hopes to be able to open it up to many more students in the future, perhaps modeling the delivery on massive open online courses.
One of the advantages of teaching a course online is the variety of delivery methods, says Anderson. Students experienced live lectures, live online group discussions, video, multimedia exercises, and simulations.
Over the years the content of the face-to-face course has shifted from providing students with a basic understanding that politics exists in organizations to giving them training in the skills necessary for navigating such politics, says Anderson. The online course was no different, he adds.
In one exercise, groups of four students chose the next chief financial officer of their company. Each one wants to hire someone different and must try to persuade his teammates to hire his pick. Students are videotaped and given feedback about their influence. In another, students have to initiate and lead change in an organization through a simulation. They typically have some troubles, says Anderson, and the debriefing that follows focuses on successful strategies for making change happen—from determining which people you need to get on board to using social media to your advantage.
Elizabeth A. Ibazebo, who was in the online class, says the online classroom often made it feel as though you were in a one-on-one session with the professor. But students interacted as well. "Students who were responding to Cameron's questions would show up as a talking head, similar to what you might see on CNBC, to share their perspectives on a topic," says Ibazebo, a part-time MBA student. "We were also able to participate in live online polls during lecture that gave us all a sense of what some of our other classmates were thinking."
Although Anderson says face-to-face teaching will never be abolished, he is certain the benefits of teaching online—an ability to reach more students, convenience, and a constant dialogue between teacher and student—will make it a natural fit for business education. Says Anderson: "There is no way this is not the future."
Join the discussion on the Bloomberg Businessweek Business School Forum, visit us on Facebook, and follow @BWbschools on Twitter.