When Uncle Sam Sneezes, US Airways Gets a Cold
By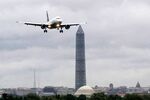 The partial government shutdown this month had a severe, albeit brief, financial impact on US Airways, the biggest operator at the airport closest to the U.S. Capitol.
Revenue from tickets sold to government dropped 57 percent in the first two weeks of October, US Airways President Scott Kirby said Wednesday on a conference call to discuss quarterly earnings. Ticket sales to government represented about 3 percent of the airline's revenue in 2012. Bookings made close to the day of travel fell 54 percent during that period at the area's three airports, Reagan National, Dulles, and Baltimore. "Quite clearly," Kirby said, "the government histrionics had a near-term impact on revenues."
US Airways has about a 20 percent share of passengers at Reagan National and controls more than half of the takeoff and landing slots at the airport, which operates under capacity restraints. The airline also competes at Reagan with Delta in flying a shuttle service with frequent weekday flights to New York and Boston. Across the carrier's full network, bookings dropped 8 percent for the three weeks ending Oct. 15.
Since the shutdown ended, however, "demand and bookings snapped back to pre-crisis levels, literally beginning on the morning that the government funding legislation was signed," Kirby said. "We believe that the brouhaha of the past three weeks was a one-time impact, and hopefully an impact that won't be repeated."
The legislation ending the shutdown funds the federal government only through Jan. 15, 2014. So US Airways could find itself facing familiar histrionics again soon.
Before it's here, it's on the Bloomberg Terminal.
LEARN MORE