Some New Zealanders Will Get Mail Only Three Days a Week. Is the U.S. Next?
By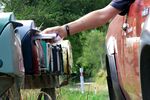 The diminutive nation in the southwestern Pacific Ocean known for bountiful kiwi production has given its national postal service permission to end six-day-a-week letter deliveries because its citizens send so few letters. New Zealand Post will move to three-day delivery in cities and five-day service in certain mail-dependent rural areas in June 2015. The agency has lobbied for the change, saying it was "rapidly headed into loss-making territory."
The outlook for mail delivery in the U.S. isn't any more encouraging. The difference is that most of its political leaders seem to be in a state of denial about the severity of America's escalating postal problem.
Postal officials in New Zealand say their operation is configured to move 1.2 billion pieces of mail a year. It now handles 835 million pieces annually. The agency predicts the total will dip to 627 million within five years. Meanwhile, New Zealand Post's costs are increasing because it must transport mail to an ever-growing array of addresses. The agency, which is supposed to be self-sufficient, warned that it would otherwise have to ask the government for financial assistance, starting at $30 million a year and increasing over time.
That may not sound like a lot of money to Americans familiar with Washington spending levels. Having seen 21 percent of its volume disappear from 2008 to 2012, the USPS lost $15.9 billion last year. Postal worker unions and their Democratic allies in Congress frequently insist that the USPS's fiscal troubles are greatly overstated. They correctly point out that first-class mail revenue declined by only 3 percent last year, to $28 billion, while shipping and package revenue climbed by 5 percent, to $11 billion. They argue that if the USPS weren't required to pay $5.6 billion a year to cover future retiree health-care costs, it would be in decent shape.
Still, the U.S. Government Accountability Office forecasts that USPS's total volume could tumble to 127 billion pieces by 2020, a 60 percent drop from 2006—and 20 percent lower than the current  figure. The postal service wants to end letter delivery on Saturdays, which it says would save $2 billion a year. Unions and their congressional allies fiercely oppose this. If the GAO's predictions are correct, however, American postal customers may wind up fondly recalling when bills and junk mail arrived Monday through Friday.
Before it's here, it's on the Bloomberg Terminal.
LEARN MORE