pursuits
Puppy Bowl vs. Kitten Bowl: The 2014 Super Bowl Showdown
By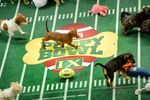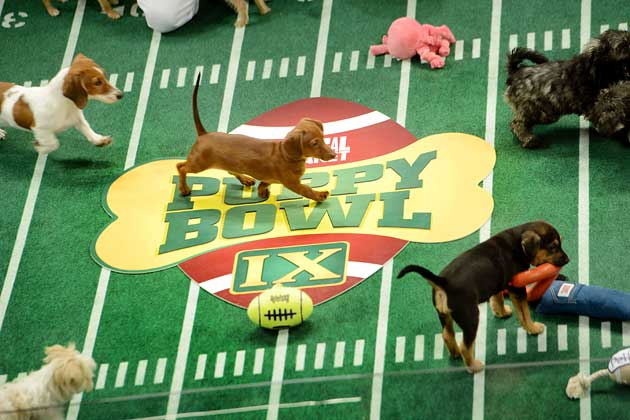 For years, Animal Planet has dominated the adorable fuzzball television market, with its Puppy Cam, Kitten Cam, and of course the annual Puppy Bowl, which airs during the Super Bowl every year and actually has both puppies and kittens (sometimes even hedgehogs). Now another television network will encroach on Animal Planet's cutesy empire. That's right, the Hallmark Channel is going to launch its own Kitten Bowl during Super Bowl XLVIII, which airs Feb. 2. How mad are the folks at Animal Planet about this? Let's just say that if the Hallmark Channel had a pair of favorite slippers, Animal Planet would mischievously rip them apart.
"They're copycats," says Brian Eley, vice president for communications at Animal Planet. "And yes, we like our puns."
The first Puppy Bowl aired during the 2005 Super Bowl with no commentary, very little sound, and a camera hidden in a water bowl. Not many people knew about it at the time, and it got only 150,000 viewers. Since then its audience has grown exponentially. Last year, 12.4 million people tuned into Animal Planet to watch puppies run around a football field for an average of six minutes before switching back to CBS, where bulky, considerably less-cute men were doing the same thing.
With its name recognition and ever-expanding lineup of animals, Puppy Bowl probably has an edge over Kitten Bowl this year. But Hallmark is pulling out all the stops to make its program competitive. The inaugural Kitten Bowl will be hosted by Howard Stern's wife Beth and called by Yankees announcer John Sterling.
Puppy Bowl, meanwhile, is usually refereed by an actor named Dan Schachner, who's known for his expert calls on rules such as "unnecessary rrruffness" and "excessive cuteness." For the Puppy Bowl novice, "excessive cuteness" is when "several dogs, usually three or more, do something unbelievably cute, which I define as cuddling or doing that thing where dogs rub their noses together," Schachner explained to Entertainment Weekly earlier this year. It's a nuanced sport, to say the least.
While Animal Planet may not like Hallmark Channel's knockoff programming, Kitten Bowl presents viewers with an incredible opportunity this year. Dog and cat lovers can finally unite in the knowledge that television programming is available to the both of them. Together they may even be able to outnumber the football fans and gain control of the TV remote. Who wants to watch Bruno Mars's half-time show, anyway?
Before it's here, it's on the Bloomberg Terminal.
LEARN MORE