Jury Finds Bank of America Unit and an Executive Liable for Mortgage Fraud
By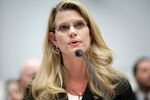 In another major victory for the Justice Department over mortgage securities sold during the financial crisis, a jury found Bank of America's Countrywide unit liable for defrauding Fannie Mae and Freddie Mac with loans it should have known were substandard.
The penalty is yet to be determined. The government has requested a maximum of almost $850 million, Bloomberg News reported. Rebecca Mairone, a former executive at Countrywide, was also found liable, as the jury heard details of a program she oversaw called the High Speed Swim Lane—aka "the hustle"—that earned the lender at least $165 million.
The Justice Department is also on the verge of reaching a record $13 billion settlement with JPMorgan Chase over faulty mortgage securities that the bank and two institutions it bought during the crisis, Bear Stearns and Washington Mutual, sold. Bank of America bought Countrywide in July 2008.
During the four-week trial, prosecutors argued that HSSL processed nearly 30,000 loans with more regard for speed than quality. "Quality was no more than a distraction," Assistant U.S. Attorney Jaimie Nawaday said in her closing argument, according to Bloomberg's Patricia Hurtado.
Shares of Bank of America fell as the news was announced this afternoon and were trading at $14.18 after hours, down from the previous day's close of $14.51. The stock has returned 22.7 percent this year, trailing a 28.1 percent return for the KBW Bank Index.
"The jury's decision concerned a single Countrywide program that lasted several months and ended before Bank of America's acquisition of the company," a bank spokesman said in an e-mail to Bloomberg. "We will evaluate our options for appeal."
Before it's here, it's on the Bloomberg Terminal.
LEARN MORE