Job Search Advice: When All Else Fails, Try the Talking Résumé
Francesca Di Meglio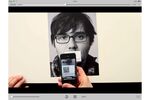 All those hours millennials spend on social media might not be wasted time, after all. Liz Madsen, a 2011 graduate of Carnegie Mellon University's Tepper School of Business credits Twitter with getting her a post-college job in a brand strategy role at the tech startup Curalate.
After sending her résumé into a bunch of black holes on the Internet, she started attending events related to entrepreneurship and technology in her target city, Philadelphia. Because the event organizers and speakers all tweeted from these gatherings, she would follow them and try to keep in touch. Then one of the people she had met virtually on Twitter sent her a job lead. She applied that day, interviewed with the company the next day, and was hired the day after that. As for her Twitter guardian angel? Madsen didn't meet him in person until eight months later.
Two of Madsen's friends from the University of Pittsburgh, Joshua Siva and Melanie Feldman, needed to come up with tricks to snag jobs, too. Siva used his alumni network in a unique way while Feldman cold-called ESPN sportscaster Neil Everett to get an interview. The three thought others might have similar techniques worth sharing, so they started doing research. The result of their work is the self-published book Bold: Get Noticed, Get Hired, which features 23 stories of people taking a nontraditional approach to the job search, plus tips on how to employ these ideas yourself.
Recently, Madsen talked to Bloomberg Businessweek reporter Francesca Di Meglio. Here are edited excerpts of their conversation:
What are some of the best examples of how to stand out in the job search?
There's one simple example that I thought was genius. Alec Brownstein knew he needed to get in front of recruiters. He determined that they must all Google themselves. So he purchased Google ads that would show up when they searched their own names. He bought ads targeting five recruiters, got four interviews and two job offers. It cost him $6.
 
Robbie Williams was seeking a job in search engine optimization. He took a look at the job description at the company he hoped would hire him and then optimized his LinkedIn profile with matching keywords. The company came to him when it found him in search. Essentially, Williams did exactly what he wanted to be hired to do.
 
Victor Petit sent hiring managers a traditional résumé with a large photo of him on the back. In place of the mouth there was QR code, which many currently use on résumés; clicking on it with a mobile device elicits further information. A talking mouth that fit right into the picture (if you put the mobile device where the mouth would be) showed up to give more information about Petit, who used his talking résumé to tell hiring managers exactly what he wanted them to hear.
 
What's your advice to job seekers?
 
Drop all your shame. This is too important. Ask for help. People will help you.
 
What did you learn from working on the book?
 
I'm excited for the next time I need to get a job. I hated the job search. Senior year was miserable. But hearing these creative people share their stories changed my mind. It becomes a game. Most of all, you learn that you are not broken. It's the system that is broken.
Join the discussion on the Bloomberg Businessweek Business School Forum, visit us on Facebook, and follow @BWbschools on Twitter.