How the St. Louis Cardinals Punch Above Their Weight
By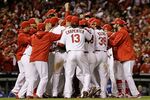 When the World Series begins tonight, it will feature, to the annoyance of many baseball fans, two very successful clubs in search of more success. Since 2000, the Boston Red Sox have been to the playoffs seven times and won a pair of World Series. The St. Louis Cardinals have been to the playoffs 10 times in that same span and have also won a pair of World Series. One way or another, spoiled fans are about to get more spoiled.
Yet the two teams, as a new analysis of Major League Baseball franchise valuations from Bloomberg News will show, are very different. The Red Sox are behemoths by any measure. They are one of four teams—along with the New York Yankees, Los Angeles Dodgers, and New York Mets—estimated to be worth more than $2 billion. They have the league's third most valuable regional sports network and top-five revenue from ticket sales, concessions, and sponsorships. The St. Louis Cardinals, meanwhile, are the definition of mid-market. At $805 million, they are the 15th-most-valuable franchise out of 30. They have the league's second-best attendance, but sit near the bottom in revenue from TV rights.
The Cardinals are neither plucky overachievers in the model of the Oakland A's and Tampa Bay Rays nor a bloated big-market club that can afford to buy only proven talent at market value. Their payroll of $115 million is 11th highest in the league. Still, they win more games than they should. (Try sorting those Bloomberg rankings by regular-season wins.) Many smart baseball heads have tried to sort out how St. Louis succeeds. There is an entire literature devoted to the "Cardinal Way" that addresses minor league player development, pitcher management, and scouting, as well as some fuzzy notions about tradition and respect for the game.
One constant emerges from all of it: The Cardinals are impersonal when it comes to personnel. As one of the better dissections of the Cardinal Way (from Sports Illustrated) pointed out, the Cardinals started this season with only nine of the 25 players on the roster that won the franchise's 11th World Series in 2011. The biggest departure was that of star slugger Albert Pujols, who had played his entire major league career in St. Louis. The Cardinals let him go to the Los Angeles Angels, who were willing to pay him $240 million over 10 years in what now looks like one of baseball's worst contracts.
MLB rules required the Angels to compensate the Cardinals for the loss of Pujols with a future draft pick. St. Louis used that pick, the 17th of the 2012 draft, on pitcher Michael Wacha, who didn't give up a single run in two starts against the Dodgers in the National League Championship Series. Wacha takes the mound for the Cardinals on Thursday night. Pujols is recovering from a plantar fascia tear—and waiting for next year.