How Rupert Murdoch's PR Forces Face Down His Biographers
by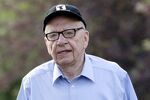 This week, Public Affairs publishes Murdoch's World: The Last of the Old Media Empires, an excellent new biography of Rupert Murdoch penned by National Public Radio's media reporter, David Folkenflik.
With high-stakes phone-hacking trials scheduled to commence soon in London, it's a great time to read Folkenflik's book, which, among other things, serves as an informative field guide to the unusually aggressive public-relations and crisis-management tactics deployed by Murdoch's lieutenants over the years. Here are a few of the most interesting morsels:
1. A bid to quash a phone-hacking story. During the summer of 2011, with the phone-hacking crisis engulfing the empire, Robert Thomson, a close Murdoch confidant and then-managing editor of Murdoch's Wall Street Journal, tried to prevent the paper's reporters from publishing a potentially damaging scoop about the burgeoning scandal.
2. Fox News used sock puppets. Folkenflik reports that, over the years, the public relations team of Murdoch's Fox News used myriad, secret dummy accounts to flood the comment section of skeptical blog posts about the network with favorable raves about Fox News.
3. Murdoch declined to be interviewed for the book. According to Folkenflik, the company worked hard to disrupt his reporting. "I had one very senior executive back out of a planned interview because he had been told by one of Mr. Murdoch's top aides not to cooperate," the author recently told the Huffington Post.
4. Writing a biography of Murdoch can be a blood sport. And not just for Folkenflik. On the eve of publishing The Man Who Owns the News, previous Murdoch biographer Michael Wolff found himself on the business end of a series of unflattering items about his personal life in Murdoch's New York Post. According to Folkenflik, Wolff called up a top Murdoch associate and reminded him that he still possessed a trove of recorded interviews with Murdoch yet to be published. "Murdoch typically spoke indistinctly, making reproduction of the tapes of less than clear value," writes Folkenflik. "But the Post's articles stopped cold at the end of the month."
Before it's here, it's on the Bloomberg Terminal.
LEARN MORE