German Labor Woes Threaten to Spoil Amazon's Christmas
by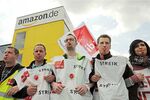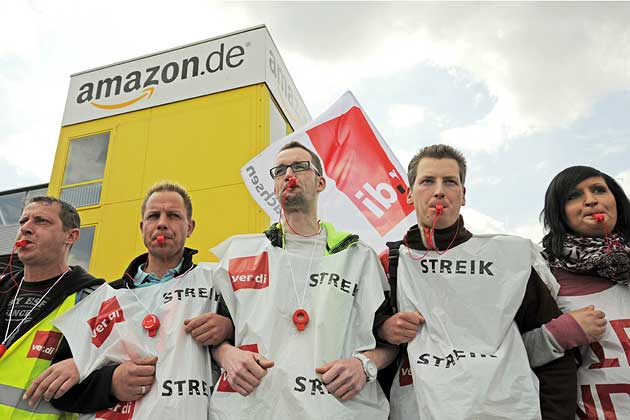 With the all-important Christmas sales season approaching, Amazon faces the risk of labor disruptions in Germany, its largest market outside the U.S.
Amazon "shouldn't rely on being able to keep all their promises to customers before Christmas," Heiner Reimann, secretary of the Ver.di services union, told Der Spiegel earlier this month. Some of Amazon's 9,000 workers in Germany have already walked off the job three times this year, most recently in September, in a dispute over pay.
Christiane Scheller, a Ver.di spokeswoman, declines to say whether the union will stage a pre-Christmas walkout: "We don't externalize our strike strategy," she explains. Stefan Rupp, a spokesman at Amazon's German headquarters in Munich, notes that "the vast majority of employees" did not participate in the earlier walkouts and that Amazon "did not see any impact on customer shipments."
With $8.73 billion in sales last year, Germany accounts for about one-third of the online retailer's $26.3 billion in international sales. German sales grew a robust 20.7 per cent in 2012. But labor problems have been brewing for months, and temporary workers hired for the 2012 Christmas season complained they were mistreated.
Ver.di is demanding that wages at Amazon's nine German fulfillment centers be brought into line with a nationwide contract for retail workers. If that happened, the starting hourly rate would rise from a current €9.30 to €9.83 ($12.75 to $13.50) to as much as €11.70 ($16), according to the union.
Amazon, though, contends that its employees aren't really retail workers. Rather, Amazon spokesman Rupp contends, they are "logistics" workers, responsible for stocking shelves, packing, and shipping. He says their hourly wages, which start at €9.55 (about $13), are "toward the upper end of the pay scale" in Germany's logistics industry.
In recent weeks, Amazon has announced plans to open two distribution centers in the Czech Republic by the end of 2014 and three in Poland by 2015. Rupp says that the new facilities are being opened "in support of Amazon's continued growth in Europe," and that no existing German facilities will be closed. Indeed, he says Amazon plans to hire an additional 1,000 workers in Germany over the next three years.
Before it's here, it's on the Bloomberg Terminal.
LEARN MORE