Chinese Newspaper Calls for Release of Detained Investigative Reporter
Christina Larson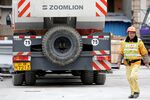 Chen Yongzhou, a scrappy but determined reporter working for New Express newspaper in Guangzhou, recently took on one of China's corporate giants: Between September 2012 and June 2013, he published a series of 15 investigative pieces examining how Zoomlion Heavy Industry Science & Technology allegedly cooked its books to exaggerate profits. Zoomlion has since denied manipulating data.
Zoomlion is a large manufacturer of construction equipment based in the central Chinese city of Changsha. Its stock is listed on the Shenzhen and Hong Stock Exchanges. The company has prospered, financially and politically, in China's era of rapid urbanization and infrastructure development. In 2008, Zoomlion acquired Compagnia Italiana Forme Acciaio, an Italian concrete machinery manufacturer. It is among the handful of Chinese companies with sizable sales abroad, especially in Latin America and other developing regions.
On Oct. 22, the Changsha Police Department announced on its Weibo Web page that the reporter Chen had been arrested: "New Express reporter Chen [Yongzhou] was legally detained on October 19 on criminal charges of damaging commercial reputation. The case is now under further investigation."
According to a blog post by media watchdog David Bandurksi of the Hong Kong-based China Media Project, Chen was arrested in Guangzhou by four Changsha police officers "clearly operating far beyond their jurisdiction."
Remarkably, the scrappy New Express punched back publically with a front-page editorial published today under the headline, "Please Release Him." The editorial didn't mince words; it alleged collusion between Changsha authorities and its star homegrown company. "Imagine, you are a journalist, and you write some reports that are critical of a certain company. Then, one day, Uncle Policeman comes and arrests you … while the police are strapped with guns and are capable of force, and while Zoomlion pays a lot of taxes to the city of Changsha and has powerful backing … we would still say: Uncle Policeman, Big Brother Zoomlion, we beg of you, please set Chen Yongzhou free!" (Translation via China Media Project.)
The New Express editorial went on to detail how Chen had been missing for more than a week and how he had to wait three days to see a lawyer. In a note of bitter sarcasm, the editorial continued: "We would also like to thank you for not employing your secret weapon to arrest another person you have set your eyes on, the head of our economic news desk. Just for the record, he really isn't at home. For days, he hasn't dared to return home."
According to an editor at another state-run newspaper in Beijing, who asked not to be named, state-run outlets feel somewhat more emboldened to take on local authorities, as in the case of New Express and Changsha, than to challenge the central government, which is riskier. Moreover, allegations of "damaging commercial reputation" are commonly trotted out to obstruct media and independent observers in China.