China and India Try to Paper Over Their Differences
By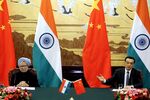 Indian Prime Minister Manmohan Singh needs to make his visit to China into a political winner. With India's economy in the doldrums and elections approaching soon, the Indian leader began several days of meetings in the Chinese capital today by meeting his counterpart, Chinese Premier Li Keqiang. Singh seems eager to trumpet the importance of talks between the leaders of the two Asian giants. "When India and China shake hands, the world takes notice," he said after reaching several modest agreements with China over water rights and border disputes.
China's official media apparently have a harder time noticing the Indian prime minister. There was little news of Singh's visit in the China Daily newspaper, and while the Xinhua news agency made the Singh visit the lead story on its website, readers who followed the link to the story found a terse report of just nine sentences.
China's leaders soon might look back fondly to the days of a low-key visitor from India. National elections are due next year, and there's a good chance the next prime minister will be Hindu nationalist firebrand Narendra Modi. The governor of the western state of Gujarat, Modi is the candidate of the Bharatiya Janata Party (BJP) and has criticized Singh for being too soft on China. "A BJP prime minister would be stronger on China in terms of sovereignty and territorial issues," Srikanth Kondapalli, a professor in Chinese Studies at Jawaharlal Nehru University in New Delhi, told Bloomberg News. "They will build up military assets and increase infrastructure on the border. The Chinese won't like that, and there could be an initial dip in relations."
Even without Modi in charge, it's clear these countries are not friends, let alone allies. China and India fought a short border war in the 1960s and today still argue about where in the mountains between Tibet and northern India the border should be. Indians are irked by their ballooning trade deficit with China, a $39 billion gap that may prove a major weakness for Singh in next year's elections. During his visit to Beijing today, the Indian leader diplomatically hinted at the discord, calling the trade disparity "unsustainable."
The two sides are also caught up in an accelerating arms race. India is boosting its military presence near the border with China and in August launched its first aircraft carrier, prompting worries by China's Global Times newspaper that China was falling behind in development of carriers of its own. Last month India's Defence Research and Development Organisation successfully tested the Agni-V missile, which has a range of 5,000 kilometers, making it the first Indian missile capable of hitting Beijing and Shanghai.
And it's not just on land and sea. India and China are competing in space, too. India will soon launch its first probe of Mars, with the Indian Space Research Organisation announcing yesterday that the Mars Orbiter Spacecraft will lift off on Nov. 5. The Indian space agency had earlier scheduled the launch for Oct. 28, but that was delayed because of bad weather. China hasn't made it to the Red Planet yet, with the botched launch of a Mars probe in 2011, but an unmanned lunar mission will depart for the Moon in December. And China is way ahead of India in sending people into space.
Still, there was some progress today in easing tensions between the world's two largest countries. Singh and Li agreed to improve military communication along the border and boost efforts to control smuggling. They also signed a memorandum of understanding designed to increase cooperation over water resources.
Those deals might not be enough to fend off criticism from Modi and the BJP. But Singh will also meet with Chinese President Xi Jinping before wrapping up his trip, so there's a chance the Indian leader might still manage to get something more impressive from his Beijing visit.
Before it's here, it's on the Bloomberg Terminal.
LEARN MORE