Boeing Gets Lift as Dreamliner Production Hits Stride
By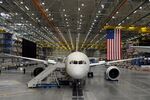 Boeing's futuristic and thus-far-unprofitable 787 Dreamliner is slowly starting to show up on the company's balance sheet (pdf) in a good way. The company delivered 23 of its 787s in the third quarter, matching in three months the total it turned out in all of 2012. Boeing plans to boost 787 production to 10 airplanes per month by year's end, before hitting a monthly dozen in 2016 and ultimately reaching the 14 Dreamliner threshold by 2020.
Executives had been busy sorting out the model's early and very expensive production kinks. The plane suffered a series of dramatic mishaps involving fires, which led to a nearly four-month grounding by U.S. authorities as engineers redesigned the composite airplane's lithium-ion battery system. The plane remains popular with airlines given its dramatically lower fuel burn and the expected long-term maintenance savings of carbon fiber.
The Dreamliner remains a bit of a financial sideshow for Boeing, which derives the bulk of its commercial airplane sales from its long-term staples, the narrow-body 737 and jumbo 777. The company is boosting production of both as airlines work to retire older fuel guzzlers. Boeing delivered 112 of the 737s and 26 of the 777s in the quarter. So far this year, Boeing has delivered 20 more 737s than in all of 2012 and 11 more 777s, leading to a 15 percent increase over last year's third quarter in commercial aircraft revenue. Airplane makers typically receive the bulk of the cash for a new plane when they hand it over to a customer.
The higher production prompted Boeing to increase its earnings outlook for 2013. Boeing shares rose 4 percent, to $127.40, and have gained about 71 percent this year.