A Roller-Coaster Death Haunts Six Flags
By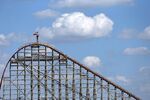 A July roller-coaster death kept Six Flags Entertainment from meeting Wall Street estimates for both profit and sales in the recent quarter, in part because skittish crowds steered clear of the Dallas-area park where the accident occurred. The theme-park operator had also idled for two months Texas Giant, the ride at the center of the deadly fall.
It was the first time Six Flags, which operates 18 amusement parks in North America, offered details on how the tragedy hurt its business. In addition to fewer guests in Texas, results for the quarter were hamstrung by litigation costs. The family of Rosa Esparza, who fell from the ride, filed a lawsuit against Six Flags early last month seeking at least $1 million in damages. In response, the company set aside $3 million to cover expected legal bills.
As the roller coaster began its first steep descent, Esparza was allegedly ejected from her seat and fell 75 feet, according to a medical examiner's report. Six Flags said it ruled out any mechanical failure of the ride but has otherwise kept quiet, citing the pending litigation.
The company has long called out accidents as a risk factor in its SEC filings. Recently, it also noted that the increasing use of social media "has compounded the potential scope of the negative publicity."
Tragedy aside, business at Six Flags has been decent. In the recent quarter, guest spending per capita increased slightly, to $41.27, and total attendance ticked up 2 percent, to 11.8 million guests. "We are firing on all cylinders with innovative attractions at every park and all-time high guest-satisfaction ratings," Chief Executive Jim Reid-Anderson said this morning.
Before it's here, it's on the Bloomberg Terminal.
LEARN MORE