Pay $1,000 for Saison's Perfect Meal, Walk Away Happy (and Hungry)
by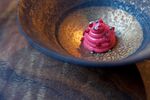 "Did you have enough to eat?"
That's what chef Joshua Skenes asked at the end of a three-hour meal at Saison in San Francisco, one of America's finest and most expensive restaurants. I didn't have enough, though perhaps the chef's question was rhetorical, as I'd already finished dessert and paid my bill for the 17-plus-course meal, in which there were no choices.
Saison, like Blanca in New York or Alinea in Chicago, is one of those tasting menu venues where you simply show up and eat what the chef sends you, a policy that's only outrageous if you objected to it during Thanksgiving at the in-laws or during every single meal you had while growing up at home. Except here you pay $248 per person. That comes to $1,020 for two after optional wine pairings, tax, and tip. Unlike at home, there's no communal crown roast platter for seconds.
Instead, Skenes sends out about two bites of raw lamb over spiced eggplant. The crimson flesh is dry-aged for 90-days, then drizzled with lamb fat and fish sauce, which is why the meat smells like Old Spice aftershave mixed with fish sauce. I'd happily wear it as cologne. How did it taste? Like the sweet herbs the Mendocino lamb apparently foraged on while roaming along the coast. Perfect.
I recall that summer meal at Saison because the restaurant's many highs (duck liver spun with caramelized white chocolate) and occasional lows (raw scallops as average as the ones from at any suburban gourmet market) have important implications for the future of American gastronomy in its most delicious and dictatorial forms.
I also contemplate that meal as the Michelin Guide prepares to dole out its coveted stars for the San Francisco Bay Area on Tuesday. Saison, with two stars, is clearly shooting for three; Skenes and company spent oodles relocating from the Williamsburg-like Mission neighborhood to the fancier SoMa district earlier this year, dropping $3 million on the new digs. The kitchen alone cost about half that. Did I mention Jack Dorsey, of Twitter fame, is an investor?
Saison lays on the luxury hard. At 6:15 p.m., I'm sitting in a cushy booth, watching sunlight pour through the windows in such a brilliant fashion I wonder if Skenes hired Steven Spielberg to do the lighting here. A waiter bends over, placing an uni-turnip custard in front of me. It's garnished with gold leaf "to celebrate day," she says. The sommelier then pours me (and everyone else at the restaurant) a free half-glass of straw-colored Krug Champagne.
Of course, nothing is really complimentary in the world of fine dining. That Krug is one of many reasons why Saison is one of the most expensive restaurants in the U.S. A second is the caviar course, which weighs in at about nine grams. The bad news is that Saison smokes the roe, overwhelming the delicate maritime oils with the flavor of almond wood. The good news is the eggs sat atop a blend of grilled tomato gelee, sweet corn pudding and vegetal okra that alone would merit three Michelin stars.
And that's the thing about Saison. What makes it a great restaurant is Skenes's fluency in non-traditional luxuries such as vegetables, game, and grains. He uses flavors like a scientist, softening the bitterness of radicchio with nasturtium honey, and coaxing sweetness out a squash blossom by stuffing it with carrot puree and fennel pollen. He transforms black cod into a savory candy with the texture of marshmallow and the flavors of rangpur lime and coconut. He amps things up with umami-rich sea greens. He takes abalone, the neutral tofu of the maritime world, and revs up the affair with layers of lardo and kelp. A soup of barley, wheat, kale, sea lettuce and sea whip, all with so much flavor you'd swear there's pork in there (it's vegetarian). Pair that all with a nori-infused shochu-tini like I did and you experience that virginal rush the first time you freebased MSG.
Everything is merry till you polish off a few bites of wood pigeon boudin and all of a sudden the waiter drops a bite of raspberry marshmallow ice cream in front of you and the meal is almost over. Where's the rest of dinner?
Now don't get me wrong. Fine-end dining isn't about gluttony; there are more efficient ways of killing your hunger than a $1,000 meal—slice of pizza, buddy? And like other forms of high art, Saison isn't a study in Roman democracy. After a performance of La Boheme at the Met, you wouldn't walk up to Anna Netrebko and say, "Hey lady, maybe next time don't die from tuberculosis in Act Four? Just for variety's sake."
Still. Fine dining is about satiety, and there needs to be a more refined, more diverse way to let diners self-regulate their hunger at a fancy joint than through endless bread baskets and desserts; Saison offers excellent Parker House rolls, ethereal buckwheat souffles and giant canelés if you like to fill up on carbs. (I don't.) Perhaps Skenes might consider a supplemental cheese course, as does Atelier Crenn (another low-choice restaurant). Or perhaps he'll take a cue from Japanese cuisine (from which Saison draws much inspiration), in which sushi chefs often ask diners if they're still hungry before dessert begins. Nod your head and you'll be presented with a few small, savory courses, maybe a few pieces of nigiri, or a toro hand roll.
So as $1,000 dinner dates become increasingly the norm at no-choice restaurants throughout the country, Skenes (and Michelin) would be well-served to pay a bit more attention to a guest's hunger levels. In the meantime, I'll still leave Saison quite happy, having enjoyed one of America's most exciting meals—and having whet my palate for a few slices of Brooklyn pizza at the other end of my flight back home.
• Saison is at 178 Townsend Street, San Francisco. Information: (415) 828-7990 or online
Before it's here, it's on the Bloomberg Terminal.
LEARN MORE