Russia's Disappearing Movie Theaters
"We are losing lovely buildings, district cultural centers, and probably the perception of cinema as art."
By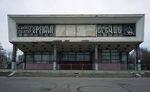 Sergey Novikov, a Moscow-based photographer, noticed the kind of movie theaters he grew up with were falling into disrepair. Some were even disappearing completely. Sensing depressing fates for rest of these Soviet-era structures, Novikov began documenting them, spending two years searching and shooting every old theater he could find.
The result is "Breathless," a photo series containing dozens of the Constructivist-style theaters in Moscow and St. Petersburg. Novikov knows that as technology and cultural expectations change, theaters inevitably do too. But he longs for the ones he knew as a child, places that added something to their neighborhoods. "They remind me of great Russian cinematography," says Novikov. "We are losing lovely buildings, district cultural centers, and probably the perception of cinema as art."
We caught up with the photographer via email to ask him about the project, what these old theaters mean to him, and what they're becoming:
When did you start to notice so many movie theaters closing or falling into disrepair?
I began to record movie theaters in 2010, but they have been abandoned for a long time. As I like to explore Moscow's neighborhoods, I'd often discover a new deserted movie theater. Then, I started to ask my friends if they'd seen such objects and then I'd look for them on the web using Google Street View. Every district has its own old movie theater or even a couple, so I found a lot. 

What compelled you to start documenting them?
I perceive them as rare, unique objects and often the movie theater is the only handsome building in a district so my urge was just to keep them in a time, place and memory through documenting. These cinemas are frozen in time, being parted from movies but their identity preserved; a frontispiece and a name. Destruction sometimes happens quickly - yesterday it was in front of you and today it is already demolished. They are breathless. Vanishing scenery.

What was it like to see a movie in these theaters during their better days?
I can dig into my childhood when it was the only kind of cinema and I watched movies like "Romancing The Stone" or "Crocodile Dundee" several times. It had an aura; creaky armchairs, hand-painted posters, just movie and you, ready for contemplation, no popcorn. Some of theaters were widescreen for 1,400 spectators (standard for Moscow) like Minsk and Baltika. Some were for 1,250 spectators (standard for St. Petersburg). And the names, listen to how romantic they sound - Planet, Mars, Prometheus, Wave, Patriot. The names were written in distinctive styles and with different fonts.

Of the theaters you photographed for the series, do you have a favorite one?
 
I can mark some as great examples of outer decoration such Ararat or Minsk, but the most intriguing for me is Planet, it was appropriated by Jehovah's Witnesses for their meetings.
Are you aware of any efforts to save or revitalize these buildings?
These buildings actually cost a lot of money. Some of them still belong to city government. So those guys look for a buyer, then change a frontispiece and transform the place into a multiplex. More rarely, cinemas just pass away. Baltika (demolished in 2010) has became a shopping mall. I haven't yet seen a restoration or renewal of these buildings. Some are still abandoned, some are occupied by holidays fairs, discоs, restaurants, car dealerships or fur shops at various times. 












entrance for seats 1-27)




(demolished in December, 2010)



This interview has been edited and condensed. 
Top image, "Erevan," Moscow. All images courtesy Sergey Novikov. 
H/T Calvert Journal.