Polish Rail to Raise $470 Million in Cargo Unit Offering
Piotr Bujnicki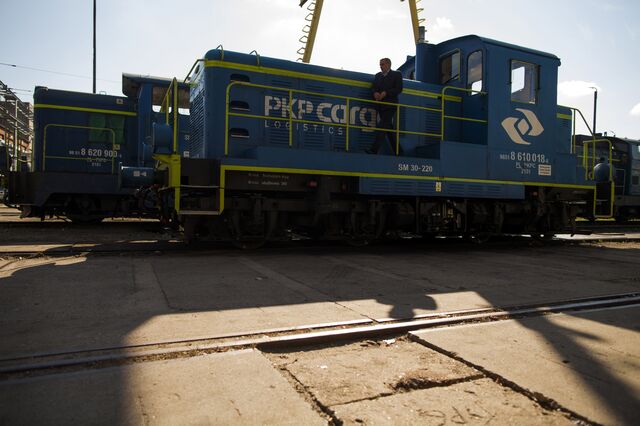 Polskie Koleje Panstwowe SA, the Polish state-owned railway, will raise 1.42 billion zloty ($470 million) from the sale of its cargo unit in the country's biggest initial public offering in almost a year.
PKP, as the railway is known, will sell 20.9 million shares of PKP Cargo SA at 68 zloty each to gain funds for cutting its own debt, Cargo said on its website late yesterday. The railway, whose stake in Cargo will drop to 50 percent after the IPO, earlier set a price range of 59 zloty to 74 zloty per share, three people familiar with the plans said on Oct. 8.
"The company offers an interesting exposure to economic revival, which would boost demand for transport services," Karol Godyn, who helps manage 3.2 billion zloty at mutual fund BPH TFI SA in Warsaw, said by e-mail yesterday. "A healthy balance sheet and reasonable investment plans let us expect it will pay dividends. The size of the sale and potentially high liquidity resulted in solid investor interest."
The IPO is the biggest in Poland since Alior Bank SA's 2.1 billion-zloty sale in December and among the largest in central Europe in 2013. Romania is selling 15 percent of natural-gas producer Romgaz SA this month and Poland plans a public offering of power utility Energa SA this year. Cargo, Deutsche Bahn AG's largest competitor in Europe, will be the European Union's first listed rail-freight transportation company when its shares start trading on the Warsaw exchange on Oct. 30.
International Investors
Cargo had a 60.3 percent share in the local market last year and controlled 8.5 percent of rail freight in the EU, according to its website. That compares with DB Schenker's 28 percent and 5.4 percent share in the EU and Poland, respectively. Hard-coal shipping accounted for 43 percent and building materials for 14 percent of PKP Cargo's total freight.
"We are pleased with the outcome of the offering and a significant interest in the company's shares from various groups of international investors," Cargo Chief Executive Officer Lukasz Boron said in an e-mailed statement today.
The European Bank for Reconstruction and Development had sought to acquire a stake of as much as 7.5 percent in Cargo during the IPO, the London-based lender said on Oct. 9. Axel Reiserer, an EBRD spokesman, wouldn't comment on what stake the bank bought in Cargo when contacted by e-mail today, saying PKP hasn't yet announced its share allocation.
Expansion Plans
The sale, which will help PKP cut its 4 billion-zloty debt and quicken its modernization, is taking place in the same week that Warsaw's all-share WIG Index rose to its highest level in almost six years. PKP won't sell further shares within 180 days after the unit's listing and may later offer an additional stake or allow Cargo to raise capital while keeping control of the unit, Chief Executive Officer Jakub Karnowski said on Oct. 8.
The Warsaw-based company, which holds licenses to provide services in Slovakia, the Czech Republic, Germany, Austria, Belgium and Hungary, will continue to expand abroad and may consider takeovers of foreign competitors to quicken growth, Cargo CEO Boron said last month.
First-half net income at Cargo, which cut its workforce by 39 percent since 2008, slumped 44 percent to 76.8 million zloty as revenue fell 9.2 percent to 2.29 billion zloty. The management will propose spending 35 percent to 50 percent of consolidated profits on dividends, according to the prospectus.
Goldman Sachs Group Inc., Morgan Stanley and PKO Bank Polski SA are joint global coordinators and joint bookrunners in the IPO. Ipopema Securities SA, Raiffeisen Centrobank AG and UniCredit SpA were joint bookrunners while Dom Inwestycyjny Investors SA and Mercurius Dom Maklerski SA acted as domestic co-bookrunners.
Before it's here, it's on the Bloomberg Terminal.
LEARN MORE