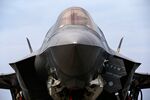 In defense contracting, federal budget cuts are mainly for the little guys. Lockheed Martin, the Pentagon's largest weapons supplier, is thus far deftly navigating the effects of the U.S. budget sequestration, which dealt a heavy blow to military spending.
The company today raised its full-year earnings forecast, showing that most of Uncle Sam's spending cuts have yet to fall on the industry's biggest player. Lockheed has been further shielded because of its F-35 Lightning fighter jet, the most expensive project in the military budget and one of the Pentagon's top priorities. The government plans to spend about $400 billion for a fleet of nearly 2,400 F-35s to replace older models flown by the Navy, Air Force, and Army. Last month, the Department of Defense signed two new contracts—worth $7.8 billion, for 71 additional F-35s—and said the deal for the latest batch of jets would see the cost of each one drop below $100 million for the first time.
Under the federal budget sequestration, the Pentagon is being forced to reduce its spending by $50 billion in the fiscal year that began Oct. 1.
Lockheed's chief financial officer, Bruce Tanner, said on Tuesday that the automatic cuts Congress enacted last winter, along with a 16-day shutdown of many government functions, will cut 2013 revenue by about $450 million, compared with an estimate of $825 million earlier this year. Because of the sequester, Lockheed Martin terminated 600 employees last week. It also put 2,400 workers on furlough during the shutdown, which ended last week; the shutdown had only a minor effect on sales. "We can size our company for the environment that we work in," Tanner told reporters.
Before it's here, it's on the Bloomberg Terminal.
LEARN MORE