pursuits
Is Kate Spade's Love for Joseph Kony an Accident? Totes
By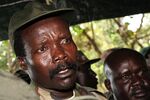 If you're a fashion label about to launch a line of tote bags, there are a few things you'll want to consider. How much should your bags cost? What colors should they come in? And are you accidentally promoting an African warlord wanted for war crimes?
This last detail seems to have slipped by Kate Spade New York, which is currently selling a tote bag that says "I♥ K♠NY." Unfortunately, and quite accidentally, that reads as "I Love Kony." As in Joseph Kony, the leader of the Lord's Resistance Army who's been kidnapping children and forcing them to be his soldiers for more than 20 years.
The bag, which retails for $228, is part of Kate Spade's "Call to Action" line that also includes bags emblazoned with quips such as "Eat Cake for Breakfast" and "Tequila Is Not My Friend #baconeggandcheeseplease" (original price: $248, or about 49 times the price of an actual bacon, egg, and cheese sandwich). On the spectrum of inadvertently offensive fashion choices, the Kony bag isn't quite as bad as last year's shackled shoe mishap from Adidas, or the "Allergic to Algebra" T-shirt Forever 21 tried to sell to young girls in 2011. The shirt's not blatantly disrespectful—it's just a poor design choice.
Why do companies keep accidentally offending people? Do they really need someone whose job is to say, "No, that looks like a swastika" or "Are we sure we want to call our new line of waterproof mascara the Trail of Tears?" And what about the poor, innocent Kate Spade customers who aren't well versed in Ugandan politics and suddenly find themselves unintentionally advertising their love for a man who's known for killing children?
If you're one of those customers, I have a solution for you. But first I must ask: Do you still have your receipt?
Before it's here, it's on the Bloomberg Terminal.
LEARN MORE