J.C. Penney Erases Almost All Traces of Ron Johnson
By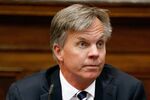 Remember Ron Johnson? The Apple exec whose efforts to make J.C. Penney sleek and fashionable failed to the tune of nearly $1 billion? He was fired in April and hasn't been heard from since. Meanwhile, Myron Ullman, the new chief executive (who was also the old chief executive) has taken every opportunity to reverse almost all of Johnson's initiatives. This may be the fastest J.C. Penney has ever moved.
Most recently, and under legal pressure, the company agreed not to sell many of the Martha Stewart products Johnson hoped would help transform J.C. Penney's home department. Stewart, as you may know, has a contract with Macy's to sell her wares—a contract that Johnson seemed comfortable ignoring but that Ullman isn't. He's also closing some of Johnson's newly renovated home departments.
Johnson's streamlined logo disappeared earlier this month. The company's new logo is more like the old one, and executives have pretty much said they hope it helps reassure shoppers it's safe to come back. An apology, aired on television around Mother's Day, was supposed to send the same message.
Most notably, Ullman has restored J.C. Penney's frequent sales. Johnson did away with the hundreds of discounts the company used to offer each year. But shoppers wanted their coupons. And they missed the brands of clothing that Johnson deemed irrelevant, or worse, to the new J.C. Penney. Most of those are back, as well.
The executives who Johnson brought in are mostly long gone. So is Bill Ackman, the investor and board member who handpicked Johnson to run the company. Ackman's hedge fund, Pershing Square Capital Management, was the largest shareholder; after a failed coup against Ullman, Ackman sold his entire stake. Some estimate that the fund may have lost more than $700 million.
Six months after Johnson vanished, J.C. Penney has almost perfected the illusion that he was never there at all. All that's missing is about $1 billion.