In Pursuit Of 'Freshness,' Americans Buy Fewer Canned Foods
By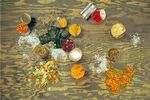 Maybe canned foods remind us of school lunches. Or power outages. Or Y2K paranoia. Or cuisine from the '50s. (Bleh.) Perhaps it's concern about BPA. Maybe the home canning trend keeps consumers from the supermarket. Because sales of preserved foods in the U.S. are fading.
Except during the recession, when consumers sought less expensive groceries, retail sales of canned, jarred, and otherwise preserved foods have been in decline. Ready meals such as canned stew, fruit, and seafood saw the steepest drops since 2003, according to researcher Euromonitor International.

Last year, volume sales of canned and preserved foods dropped by 1 percent, and Euromonitor estimates that by 2017, retail sales will be down 5 percent from 2012 levels, to 5 millions tonnes.
Sure, they're affordable and can reduce food waste. But, as the firm explains in a report, because these products can be kept on shelves for years and can contain high levels of sodium, they are perceived to be less fresh and less healthy than even frozen and chilled foods. As the economy recovers, consumers are gradually trading back up. "Given the current health and wellness mind set of Americans, they are trying to avoid canned/preserved food if they can afford to do so," Euromonitor writes. (This obsession with freshness doesn't seem to be stopping people from hoarding Twinkies.)
Even cans, a popular low-cost option for food manufacturers, face new competition. Data from the Can Manufacturers Institute (PDF) show that can shipments are down. Companies are experimenting with more modern packaging: General Mills just launched a line of "artisan" Progresso soups in Tetra Pak cartons, saying they "provide high-end shelf appeal," according to foodproductiondaily.com. Last month, Campbell Soup teamed with Green Mountain to introduce a line of soup K-Cups for use in Keurig brewers (normally used to make coffee and tea), citing "an increasing need for ultra convenient options."
"I think the view is that pouches, plastic, rigid packages … are being tested as ways to drive new end-use–younger end-use audiences," said Anthony Allott, chief executive of Silgan Holdings, North America's largest maker of metal food containers, on an earnings call. "Once you get those consumers interested in your new products, we believe that you will ultimately want to bring them back to a food can because it's a low-cost delivery, and our customers all have significant installed base of filling for our foods cans." He noted that demand for soup cans remains strong.
Even if Americans turn their noses up at buying canned foods for themselves, they do seem fine with its other uses. Allott pointed out that canned pet foods "look very strong."