How to Ace the Harvard Business School Admission Interview
Francesca Di Meglio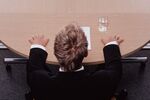 Only a select few of the 10,000 or so annual applicants to Harvard Business School receive an interview invitation. Many of the chosen ones turn to the staff at The Harbus, the student news organization of HBS, for counsel. Why? Because each year the newspaper puts out The Unofficial HBS Admissions & Interview Guide.
For $65, potential HBS MBAs can download a 68-page PDF that includes many of the questions the most recent incoming class had to answer in their admission interviews. In the latest edition, Harbus staff conducted in-depth interviews with current students to get advice for applicants.
On Oct. 16, HBS sent out this year's invitations for admissions interviews. On the same day, the newspaper published a story featuring some of the most relevant advice as a teaser to the guide. "The advice seems simple, but people sometimes overlook it," says La Keisha Nicole Landrum, who wrote the story. "What sets people apart is going the extra mile and setting themselves up for success."
Here are some tips from current students, says Landrum, to get you started on your preparation:
• "Know your application inside and out. Sounds simple, but review it again and again. Know your story and practice explaining key achievements that you mention in your resume or essays."
Determine the salient points of your application and the message you want to get across. Think about what you would want to know more about if you were an outsider reading your application and then practice how to respond. HBS students stressed that even if you're constantly practicing what you're going to say, you have to learn to be natural and not sound rehearsed.
• "To practice, I did six simulated interviews with HBS students that proved invaluable in my preparation."
The mock interview is a must when prepping. But just sitting in your room with a buddy pretending to be an admissions officer is not enough. You need to make these fake interviews as close to the real thing as possible. Students say one of the most daunting parts of the experience is the pressure you feel. Wearing a suit, having actual HBS students interview you (if you know any), and sitting in a conference room can make it feel real, which can help you learn to deal with the stress and still get your point across.
• "Prepare three or four good stories (which could be adapted to answer practically any question), then record yourself on iSight answering 20 minutes of questions. Watch to assess your body language, tone."
Stories have to further demonstrate the overall message that you're trying to send, so choose wisely. Body language and tone must show that you are confident. Consulting videos and writings of Harvard Business School professor Amy Cuddy, a body language expert, is a good idea, suggests Landrum.
• "HBS students are expected to be able to think on their feet in the case method. The interview screens for that."
In other words, you have to be persuasive and eloquent, and you must present your ideas clearly. To be polished, candidates must have their elevator pitch down, and they must practice it ad nauseum.
• "You will be asked a lot of questions—often in rapid fire fashion. But don't forget to get your own message across."
This is another way of saying don't waste your time, which is limited. Make sure to make your most important points as soon as you can.
Join the discussion on the Bloomberg Businessweek Business School Forum, visit us on Facebook, and follow @BWbschools on Twitter.