pursuits
How a Vegan Mayo Maker Bulks Up for Whole Foods
By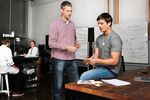 It's just a little jar of egg-free mayonnaise on shelves at Whole Foods, but getting it there is proving to be a giant undertaking for Hampton Creek Foods, a startup set to take its environmentally-friendly, vegan spread across the country.
A national launch is a huge deal for any small company, even one such as Hampton Creek, which has been fortunate to have high-profile investors, including Bill Gates, Peter Thiel, and Vinod Khosla. A food startup needs to figure out how to source, manufacture, and ship significantly larger quantities of its product—and for the maker of no-egg Just Mayo, output must increase forty-fold. Hampton Creek will go from making 80,000 pounds of its altnerna-mayo in the last two years to churning out an expected 3.2 million pounds of the spread over the next 12 months, according to Chief Executive Officer Josh Tetrick.
The two-year-old company and its 33-year-old leader have until now been more focused on a separate product, an egg substitute powder for baked goods. But the alternative mayo caught the attention of in-store cooks at a few Whole Foods outlets, and things took off from there.
While the 336-store supermarket is far from the country's largest—Kroger, for instance, has about 2,400 stores—Whole Foods branding will no doubt put a lot of power behind products from little Hampton Creek. Whole Foods is, on the other hand, a particularly complicated grocery chain to work with. "Whole Foods is so decentralized," Tetrick says. Unlike at other chains, "Instead of three decision makers, we have 60."
This is how Whole Foods explains its piecemeal approach on its website:
"Due to the diversity in the customer base amongst our different geographical regions, we review products for approval at the regional level. Each of our regional offices have different review procedures, which require that information and product samples be submitted in very specific ways to key individuals."
Before ramping up production, the yellow bean-based mayo first needed to be reformulated to meet Whole Foods' sustainability standards. The preservative that Hampton Creek was using, calcium disodium EDTA, is on the grocer's list of "unacceptable ingredients." Hampton Creek's research and development team had to figure out another way to extend the shelf life, and it settled on lemon.
This was no simple matter of fixing an ingredient, getting a few executives to sign off, and boom—national distribution. The product had first to go through a regional approval process. The mayo was introduced into Whole Foods through Northern California stores earlier this year for use in such prepared foods as potato salad. Soon, buyers for the Rocky Mountain and Mid Atlantic regions started requesting the vegan mayo, too, and by summer Whole Foods had approached Tetrick about taking the mayo from kitchens to store shelves. Still, regional buyers had to approve the product, one by one.
It was worth the ordeal: "It's an unreal deal for us," Tetrick says.
To launch by fall, the startup quickly had to find a manufacturing partner with more capacity than Hampton Creek's 2,400-square-foot facility; Tetrick found one in the Pacific Northwest. With distributor United Natural Foods, Tetrick's team started doing test runs to every region that contained a Whole Foods. Would the mayo hold up on hot roads in Arizona? (It did.) What if the refrigeration went out? (So long as a fan were still going, fine.) How about a long trip to Florida? "There are a lot of challenges for us in understanding the wide world of distribution," Tetrick says.
Then there were the supplies—and not only ingredients. The company will need 50,000 shipping boxes by January, as well as lids. Hampton Creek had used only 700 lids in the past two years, so Tetrick ordered 200,000 more last week.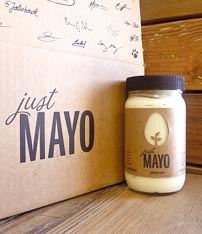 With the big details sorted out, Tetrick shifted to smaller niceties: a box designed with employees' signatures, an idea Tetrick borrowed from Apple's early days; thank-you letters to include in every shipment, along with such swag as branded t-shirts and hats; and promotional signs for use inside the stores.
A lot of time now is being spent on communications, with nearly three dozen phone calls from the CEO each day. "We have 233 Whole Foods relationships—buyers, PR people—and we need to be on top of them," Tetrick says. "In this very moment, what I'm thinking about day-to-day is really making sure people on my team and those relationships are way ahead of anything that can happen." In the coming months, he plans to visit every Whole Foods location with a member of his sales team to gather feedback from store managers and customers.
Then there's an amped-up marketing message. Tetrick, an Alabama native who became vegan as an adult, ticks off themes: taste (better than Hellmann's), sustainability (no sad chickens), and nutrition (no cholesterol). The company is hoping such allies as the Humane Society will help get the word out about the plant-based spread. After Just Mayo's Whole Foods debut, Hampton Creek will roll out flavored varieties like chipotle and sriracha, an egg-free cookie dough, and a liquid scrambled "egg" product.
And, of course, Tetrick has been busy doing media interviews. The young chief exec recounted going to bed last week at 2 a.m. and waking up five hours later. "It's a delicate, precious time," he said. "We can't f— it up."
Before it's here, it's on the Bloomberg Terminal.
LEARN MORE