Heavy Smog Shuts Down Schools in Northern Chinese City
Christina Larson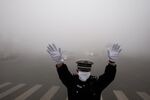 American schools have "snow days" when severe winter storms strike. In the northern Chinese city of Harbin, primary and middle school students were ordered to stay home on Monday because of a smog emergency. Buildings and cars were obscured all day in a dull gray haze, and the density of PM 2.5 (air pollution particles are less than 2.5 microns in diameter) soared to 20 times the level the World Health Organization deems acceptable for daily exposure.
As the local government shuttered Harbin's Taiping International Airport and more than 2,000 regional schools, the capital of Heilongjiang Province (population 12.6 million) and surrounding areas came to a virtual standstill. The driver of a No. 88 commuter bus in Harbin had difficulty navigating the roads when visibility was less than 33 feet; after taking some wrong turns, he spent six hours trying to re-locate the regular bus route. Major highways in Heilongjiang province were closed.
China's state-run Xinhua newswire linked Harbin's smogapocalypse to the fact that additional coal-fired power plants had been fired up when the citywide public heating systems had been turned on on Oct. 20 in preparation for the region's notoriously frigid winter. "Go out and wear surgical masks and drink water more," a Weibo user called Zhu Bi Lang Ke wrote on the popular social-messaging site. "The Party won't save Harbin; save yourself." According to Xinhua, several Harbin pharmacies were sold out of pollution facemasks on Monday.
"This season, the accumulation of air pollution is way beyond the environmental carrying capacity," says Ma Jun, director of the Institute of Public & Environmental Affairs in Beijing. "Harbin is in one of the coldest areas in China. Winter starts earlier and lasts longer. More coal is burned to generate power for public heating and for industry." On a more optimistic note, Ma points to the fact that 114 Chinese cities now monitor PM 2.5 levels and release pollution updates online as a hopeful signal that Chinese authorities are taking environmental goals and public engagement more seriously than in the past.
Much more needs to be done to clear the smog. "Only total transparency of government policies and data and robust public scrutiny" can give teeth to current environmental goals, said Ma.
Meanwhile one sarcastic Weibo user in Harbin wrote: "Beijing you are not alone [in smog]! Here we come!"
Before it's here, it's on the Bloomberg Terminal.
LEARN MORE