Coach Finds Dudes' Weakness: Alligator Flasks and Driving Gloves
By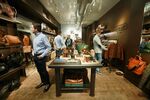 Coach is losing some luster with the ladies, but it appears to be having some luck with men. Bags and accessories intended for guys were by far the brightest spot of an otherwise dismal report from the luxury retailer this morning. Sales of those products increased by 25 percent, and Coach said it hopes to book $700 million in men's sales this year. That would represent a not-at-all shabby 14 percent of its total sales last year.
The cross-dressing strategy isn't a stretch. Coach is great at leather; men generally like leather. And the company's design team seems to be building a better product line on that front. The retailer is no longer hawking $250 baseball bats, which were a strange choice (though it still sells baseball gloves). Rather, it is focusing on more refined and unique things such as deerskin driving gloves ($148), cologne that smells like oak moss and saddles ($95), and a pièce de résistance, a flask wrapped in alligator hide ($500).
A Wall Street analyst itching to burn some bonus cash won't find that at Jack Spade, Alfred Dunhill, or any other blue-blood bro brands.
Meanwhile, Coach's women's business is a hot mess. A dearth of handbag shoppers has taken a toll as the company frantically tries to expand its product line across the "lifestyle" strata—from shoes to coats to watches. Progress has been slight.
In the recent quarter, both sales and profit dipped slightly at Coach. It even posted a decline in direct-to-consumer sales; that's particularly rare these days, given that wholesale brands have typically been improving their reach with bigger and better Web stores.
"While we are encouraged by the initial iterations by our lifestyle brand, we recognize that the full reflection of this positioning is part of a multi-year journey," Chief Financial Officert Jane Nielsen said during a conference call on Tuesday morning. In other words, don't bail on us now. Investors ignored her: Coach shares have since dropped about 8 percent.