China's Overheated Property Market: Clampdown Ahead?
by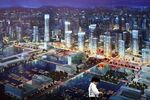 China's property market is on fire. Prices for new homes soared by as much as 20 percent in the country's four biggest cities in September, over the same month a year earlier—the most since January 2011. In Beijing, they were up 16 percent, in Shanghai, 17 percent, and they were up 20 percent in both Guangzhou and Shenzhen. Of 70 major cities, only one, Wenzhou, saw a drop.
Overheated real estate may be good news for China's aim of reaching a gross domestic product growth target of 7.5 percent for the year. After all, one-third of the economy comes from real estate and related industries, estimates Everbright Securities economist Xu Gao. "Property is just such an important sector for China. If home prices fall, the economy will certainly slump. The government is trying to find a balance," Xu told Bloomberg News.
Following former premier Wen Jiabao's largely unsuccessful efforts three-year effort to rein in the housing market, including a hike in down payments on second mortgages, Premier Li Keqiang has been hands-off. That may have to change.
"We are confident of achieving the main targets of economic and social development this year," Li said on Oct. 21 while giving a speech at a congress for China's official trade union in Beijing. On the other hand, "risks and challenges persist," he warned, the China Daily reported on Oct. 22.
Some of those go hand-in-hand with inflated prices. In particular, China is now carrying out a national audit of local government debt and is trying to contain growth of its large shadow-banking sector, both of which have grown in tandem with the overheated property market. (Local governments have utilized easy access to land to invest heavily in real estate; unregulated shadow banking has helped fund that property development.)
"Home prices, especially in big cities, are a bit out of control," Liu Li-Gang, Hong Kong-based economist at Australia & New Zealand Banking Group, told Bloomberg News. "China's facing an increasing risk of a property bubble."
The government will "remain vigilant on property prices, which it sees as being a bigger problem in first tier cities," wrote Barclay's Hong Kong-based China economists Jian Chang and Joey Chew in an Oct. 18 research note following the release of third-quarter GDP growth of 7.8 percent and preceding the latest property market announcement.
Before it's here, it's on the Bloomberg Terminal.
LEARN MORE