At Red-Hot Chipotle, Sustainable Ingredients Are the Marketing
By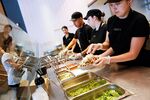 To understand the creativity of Chipotle Mexican Grill's marketing, consider the utter lack of it on the menu. Other than testing shredded tofu in some key markets, the offerings are a typical mix of burritos, tacos, and guacamole. There are no scrambled eggs or Doritos-flavored tacos, no tortilla soup or Mexican pizza. As chief marketing officer Mark Crumpacker notes: "We don't really add anything new to the menu."
In fact, Chipotle's main draw arguably isn't so much what it sells as how it buys: The emphasis is on organic, locally-produced ingredients and meat from "naturally raised" animals. In March, the company became the first U.S. chain to label and push to eliminate its genetically engineered ingredients. That's why Chipotle has created marketing messages that most fast-food brands would view with horror. Last month, it launched an animated short about factory farming called The Scarecrow, which has spawned much debate and more than 7.1 million views on YouTube. (Think The Meatrix, only with a fast-food sponsor). On Monday, meanwhile, the restaurant launched a "Food for Thought" section on Huffington Post.
It's the latest in a series of moves aimed at getting consumers to eat what the chain calls "Food with Integrity." The motive isn't simply a sense of corporate responsibility: "It's supposed to make people more curious about where their food is from," Crumpacker explains. While this might prompt them to choose Chipotle when the urge for Mexican fast food next hits, he says,"there are easier ways to sell burritos"—billboard ads with images of burritos and driving directions, for instance, which is why that kind of traditional ad still eats up a third of his budget.
Speaking out against the norms of agribusiness has its costs. One is blowback from critics who say the Scarecrow film is misleading because the chain got about 15 percent of its beef from conventional farms during a supply crunch this year. (All its pork and chicken is raised without antibiotics or factory-farming techniques). With more than 1,500 restaurants and rivals interested in "natural" food, such shortages could remain an issue.
Even so, Chipotle's strong stance against factory farms and GMO food seems to be paying off. It reported a 6.2 percent rise in same-store sales last quarter, which sent the stock to a high of 511.10 last week. Now Crumpacker plans to push the conversation farther with a media partnership that brings together outside content and advertorial on the topic of sustainable food. "We have say over our own content and the topics," he said of the Huffington Post venture, "but it will have a lot of different voices."
Including critics of Chipotle? Perhaps. "The reality is we have a opinion on this, and we know what we want to say," he says."People can disagree, but the more they talk about it, the more they'll think about their food."