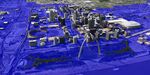 Coastal cities get all the love when it comes to apocalyptic images of sea level rise. But last Wednesday, marine biologist Andrew David Thaler launched the #DrownYourTown hashtag, inviting Twitter users to request sea level rise visualizations for their hometown. Suddenly, any city could star in its own The Day After Tomorrow.
Using Google Earth and GIS modeling, Thayer "drowned" over 50 locations in the initial 2-hour mapping marathon. Check out the ridiculous amount of sea level rise it will take to drown these landlocked cities. (Keep in mind these are visualizations of potential sea level rise, not guaranteed to be accurate).
Plenty of ominous wishes were cast on international cities as well.  
Not even the old and new world wonders could escape the wrath of #DrownYourTown.
Thaler also shared a step-by-step guide to creating these images, which can be made in minutes. He hopes others will explore sea level rise on their own, and some already have. 
When asked if this exercise trivializes sea level rise, Thaler says "trivial" can be a good thing if it means the issue will be deeply ingrained in our minds. 
"I want sea level rise to be something people are thinking about everyday," says Thaler over the phone.