Unearthing Criticism of an SBA Loan Program
By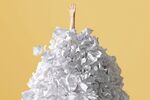 It wasn't just the Small Business Administration's loan approval process that got held up by the government shutdown. So did its press releases, including one announcing a Sept. 27 report from its Inspector General's office  (PDF) indicating that the SBA failed to "maximize recovery" on $752.6 million in defaulted disaster loans from June 2006 to June 2011.
To be clear, the inspector general isn't blaming the agency for making three-quarters of a billion dollars in bad loans. Rather, the report faults the SBA with failing to follow federal protocols for collecting on defaulted debt. For instance, the report says the government could have recovered an additional $22.3 million if it had transferred responsibility for collecting bad loans to the U.S. Treasury Department.
The SBA made $9 billion in disaster loans from 2006 to 2011, according to a letter (PDF) earlier this year from then-SBA chief Karen Mills to Senator James Risch (R-Idaho). (That period doesn't correspond precisely with the period referred to in the inspector general's report.) The default rate on disaster loans in 2006, following hurricanes Katrina, Rita, and Wilma in 2005, was 10.4 percent, according to Mills's letter.
Due to politics surrounding the formation of the SBA in 1953, the agency has long been charged with making federal disaster loans to both homeowners and businesses. Home loans are capped at $200,000 and typically carry interest rates of under 2 percent; business loans stretch to $2 million, with 4 percent rates. The total amount of the agency's disaster lending varies on the need for such funding in a given year.
Beyond failing to transfer loans to Treasury, the inspector general also faulted the SBA for not following guidelines for restructuring non-performing loans and for failing to liquidate millions in real estate collateral from the loans. The report didn't put an aggregate number on the dollar amount the agency could have collected by following the procedures the inspector general recommends.
The SBA agreed to follow several of the recommendations in the Inspector General's report, but it took issue with the tone of the report, particularly for leading "the reader to believe that the SBA had a reasonable chance to recover $752.6 million from defaulted disaster loans."
In a letter appended to the published version of the report, the SBA's director of the Office of Financial Program Operations (OFPO), John Miller, wrote that "while improvements are possible, the report fails to mention the valuable work that is being done at the National Disaster Loan Resolution Center (NDLRC); namely, upholding the disaster loan program's mission of assisting disaster victims while maintaining good stewardship of taxpayer funds.