Tallying Disaster Loans One Year After Hurricane Sandy
By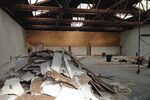 It's been a big year for the Small Business Administration's disaster lending program. After Hurricane Sandy devastated parts of the Northeast U.S. last October, the agency approved $2.4 billion in loans to help renters, homeowners, and business owners rebuild, according to data from the SBA through Oct. 18.
Only about 24 percent of those loans have been disbursed so far. Despite the lag, the agency will disburse more in disaster loans in 2013 than in any year since 2006, when the SBA awarded $6.2 billion to those affected by hurricanes Katrina, Rita, and Wilma, as well as other disasters. The SBA paid out $5.6 billion for Katrina alone, according to a letter from then-SBA chief Karen Mills to Senator James Risch (R-Idaho) earlier this year.
Funding for disaster loans lags behind approvals because "the full disbursement of the loan proceeds aren't automatic," SBA spokeswoman Carol Chastang writes in an e-mail. In other words, borrowers often must provide additional documentation after their loans are approved and often don't receive funds all at once. That sounds reasonable, but probably doesn't make the wait any less frustrating, or worse, for small businesses waiting for the loans.
John Miller, the SBA's director of the Office of Financial Program Operations, wrote in a recent letter to the agency's inspector general, "assisting disaster victims while maintaining good stewardship of taxpayer funds" is part of the agency's mission. To that end, home loans are capped at $200,000 and typically carry interest rates of less than 2 percent; business loans stretch to $2 million, with 4 percent rates.
Home loans
approved

Home loans
disbursed

Business loans
approved

Business loans
disbursed

New York

$1,283,666,800

$287,935,500

$270,231,800

$90,257,600

New Jersey

$635,549,000

$135,772,400

$197,622,900

$54,949,100

Connecticut

$38,179,200

$10,894,500

$11,793,900

$2,348,100

Maryland

$2,657,300

$1,027,800

$1,499,200

$450,100

Rhode Island

$1,278,000

$298,900

$1,411,200

$443,600

Virginia

$976,300

$600,600

$806,400

$76,700

North Carolina

$18,900

$18,900

$556,200

$533,700

West Virginia

$27,800

$27,800

0

0

Total

$1,962,353,300

$436,576,400

$483,921,600

$149,058,900