Obama's Apology for a Tech Meltdown Is a Major Letdown
By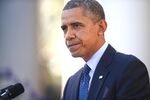 Back in June, the Atlantic wrote a gushing article about HealthCare.gov. The website was fast, clean, and built on the cheap. It represented everything good about the tech-savvy Obama administration, which, since day one, has been dialed into such big-time trends as cloud computing and the rise of open-source software. Here was a website for the people and by the people—or at least by a decent contractor.
As most people now know, any good feelings around HealthCare.gov have evaporated. People trying to use the site to sign up for health care under the Affordable Care Act have met with an experience that even dial-up users circa 1995 would abhor. On Monday, President Obama found himself not at the campus of Facebook or Twitter, back-slapping brogrammers, but in Washington apologizing for this abomination. "Nobody is madder than me," Obama said during a press conference. "We did not wage this long and contentious battle just around a website. That's not what this was about."
The author of that Atlantic piece, Alex Howard, hasn't exactly apologized, but he has been walking back support for the glories of HealthCare.gov. Like a number of other people, Howard says that the front end of the website—the part that people see—was an achievement. All the mess has taken place on the back end, where nasty databases and clunky code from various parties must interact. CGI Federal, a Canadian-owned contractor, has been blamed the most both because of its central role in managing the guts of the site and because it received $88 million of $394 million dedicated to this project. (Want to cry yourself to sleep tonight? Have a look at this government report (pdf) detailing how ridiculously expensive website sausage gets made.)
To place the blame only on CGI, though, seems rather unfair. The people who approved the building of a faulty $400 million website deserve hard looks as well. Through the first half of this year, Facebook spent $606 million on capital expenditures. That figure includes the cost of building massive data centers in such places as Sweden, along with the equipment inside the computing facilities. Based on these figures, HealthCare.gov should have more computing capacity than anything else in the government short of an NSA spy hub.
Or as Andrew Couts at Digital Trends puts it, "Facebook, which received its first investment in June 2004, operated for a full six years before surpassing the $500 million mark in June 2010. Twitter, created in 2006, managed to get by with only $360.17 million in total funding until a $400 million boost in 2011."
It should be noted that in the history of technology cock-ups, this type of thing is quite common. In 2004, Hewlett-Packard, which should be pretty tech savvy, blamed a faulty installation of SAP's business software for $400 million in lost sales and a blown quarter that cost three top executives their jobs. Similarly, Levi Strauss chalked up a 98 percent drop in quarterly income back in 2008 to a software installation debacle. And the military has been known to squander a billion or six on technology journeys gone wrong.
What's particularly painful about the health site disaster, however, is that it really did seem as if the Obama administration understood technology in ways its predecessors didn't. Obama has hired energetic, innovative people within the administration, and the government has made huge leaps forward in reducing costs through open-source software and turning to the cloud for even highly sensitive jobs.
Yet all that technical know-how failed to build a functioning online health-care exchange. If the development of HealthCare.gov had been managed more competently, a presidential apology for a technology flop would never have been necessary. Now it may be time to overpay a Red, White, and Blue American contractor, such as IBM, Accenture, or HP, to help us take two steps backward and clean up the mess.
Before it's here, it's on the Bloomberg Terminal.
LEARN MORE