North Face Cashes In on High-Tech Gear and Mountain Cred
By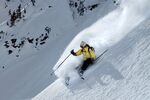 A risky bet on hard-core climbers, skiers, and other outdoor enthusiasts is paying off for North Face.
VF, which owns the storied brand and a closet full of other well-known apparel lines, says North Face sales increased 3 percent in the recent quarter, and Vice President Steve Rendle even took to bragging a little during a conference call this morning: "We're the best-positioned to succeed in the outdoor industry," he told analysts and investors. Patagonia, Marmot, and Columbia Sportswear will take note.
The strong showing helped VF increase its total sales 5 percent, to $3.3 billion, and boost profits 11 percent, to $436 million.
The North Face results are particularly impressive because they come on the heels of two consecutive crummy winters, which had put a damper on snowboarding and other endeavors that require high-tech layers. VF, which gets almost 1 in 5 of its sales dollars from North Face, said outdoor retailers are putting off orders of winter apparel until the fourth quarter. But that didn't keep gearheads from snapping up parkas and other North Face clothing online. The brand's direct-to-consumer business surged 28 percent in the recent quarter, driven primarily by a 60 percent increase in Web sales.
Why the spending spree? The company has a number of new technical offerings that go well beyond the puffy down coats. North Face's ThermoBall jackets, for example, are made with a synthetic material comprised of tiny, ball-shaped clusters of fibers. They're almost as light and warm as down but handle wet weather far better. Similarly, North Face's FlashDry shirts and shorts have a "particle additive" that speeds sweat evaporation. The company also has a $1,180 backpack equipped with an airbag to help skiers survive an avalanche.
North Face is reaching for much more than just the weekend warrior or high school student attracted to the brand name. The mass market is bigger, but that doesn't necessarily make it as profitable. Plus, there's a rash of competitors—from Uniqlo to Adidas—expanding their offerings of relatively cheap outdoor apparel.
Not surprisingly, VF has been pouring an unprecedented amount of money into research and development, according to Rendle. That equates to only a "low single-digit" percentage of sales, he said, but that's big for the apparel world. After all, parkas still aren't quite as complex as smartphones or pharmaceuticals.
VF is also spending big on marketing, specifically its new North Face tag line: "Never Stop Exploring." The company dropped $10 million on ads and other brand initiatives last quarter; in the current three-month period it plans to fork out three times that amount. Maybe that's what it takes to reach shoppers clinging to the sides of cliffs and shushing down exotic glaciers.