Immunity's Not for Sale and Other Thoughts About JPMorgan's Potential $13 Billion Settlement
By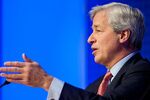 The most interesting aspect of JPMorgan Chase's tentative agreement to resolve civil claims over sales of mortgage securities leading into the 2008 financial crisis: $13 billion doesn't buy immunity from criminal prosecution. In a show of who has most of the leverage in these situations, Attorney General Eric Holder declined to entertain JPMorgan Chief Executive Jamie Dimon's request for a nonprosecution agreement as part of the deal. "Instead," reports the the New York Times, "he informed Mr. Dimon that the Justice Department wanted JPMorgan to plead guilty to a criminal charge in that case, an unusual show of force against a Wall Street bank." The $13 billion payment would resolve investigations by three U.S. Attorneys offices, two state attorneys general, and three federal regulators. It would exceed any figure a company has previously agreed to pay to the Justice Department.
The absence of criminal immunity is likely to be noted by other financial firms and individuals who are grappling with both civil and criminal investigations by the government. SAC Capital founder Steven Cohen, for one, already encountered a similar scenario after learning that paying more than $600 million to the Securities and Exchange Commission did not protect his firm from criminal charges.
Wall Street executives may take note of another surprising outcome of JPMorgan's troubles—they have had little impact on the company's stock price, and Dimon appears to have suffered minimal damage to his reputation, at least in the financial world. Last quarter, the bank reported its first quarterly loss since 2004 and took a $7.2 billion charge to cover litigation and regulatory expenses. But that hasn't bothered too many investors, and the stock's price remains high. "I'm very, very comfortable as an investor in JPMorgan," Home Depot founder Kenneth Langone told Bloomberg News. He said he sees this as a buying opportunity.
Before it's here, it's on the Bloomberg Terminal.
LEARN MORE