Putin, Glock, and the 'Golden Pistols'
Paul M. Barrett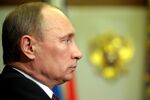 The Austrian pistol manufacturer Glock attracts controversy like a magnet. Long the favorite of American police officers, rap artists, and home defense buffs—and the bane of gun-control proponents—the company now finds itself at the center of Russian President Vladimir Putin's war of words with his chief political foe.
Top Kremlin critic Alexei Navalny has accused Putin and his government of engaging in a corrupt arms procurement deal to buy Glock pistols at a price that's allegedly four times the market rate. The Russian government is buying "ordinary pistols for the price of gold ones," Navalny, a lawyer and dissident said Friday on his anticorruption blog.
Deputy Prime Minister Dmitry Rogozin responded the next day on his official Twitter account, saying: "Navalny will have to apologize." AFP, the French press agency, noted:
Rogozin's response was a rare acknowledgement by the government of the existence of Navalny, who cemented his reputation by speaking at protest rallies against Putin's return to the Kremlin. Putin never refers by name to the charismatic 37-year-old lawyer who coined the slogan "Putin is a thief." Navalny has published online exposés of official corruption that have forced several lawmakers to stand down.
Apart from the political implications of the Glock "golden pistol" firefight, there's this question: How has a closely-held arms manufacturer from Austria persuaded the proud Russian military-industrial complex to buy its wares, regardless of the price? Despite a decades-long history of financial intrigue and acrimony—including the attempted assassination in 1999 of founder Gaston Glock, arranged by his own then-top corporate adviser—Glock maintains its worldwide status as the go-to semiautomatic, large-capacity pistol.
Perhaps part of the answer is the free advertising Glock gets when it turns up so consistently in the newspaper headlines—and, these days, on blogs and Twitter.