Facebook Woos Media Companies With Tool to Post Stories
Brian Womack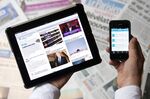 Facebook Inc. is testing a feature to simplify how media companies find content to post on its service, stepping up efforts against Twitter Inc. for driving traffic to news providers.
The new tool suggests stories from media sites such as Time.com that could be posted on Facebook after the articles show high engagement with users, the company said today in a blog post. The feature takes a more proactive stance in proposing content to post, whereas Facebook previously offered data on what stories were performing well on the site.
The Menlo Park, California-based social network, which has more than 1 billion users, is looking for new ways to attract content from media and news organizations, especially as Twitter has become a hub for catching breaking news and commenting on the issues of the day. Twitter is set to go public soon.
"People come to Facebook to not only see and talk about what's happening with their friends but also read news and discover what is going on in the world around them," Facebook said in the post. "Because of this, we work closely with media organizations."
Facebook said referral traffic from its service to media sites has increased by more than 170 percent on average in the past year. The company also touted results of a recent test that showed 29 media sites boosted referral traffic by more than 80 percent when they posted more often on the service.
Before it's here, it's on the Bloomberg Terminal.
LEARN MORE