Congress Has a Long Post-Debacle To-Do List
By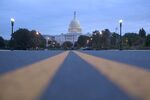 Congress shut down the government and then went on vacation. Before all that, lawmakers kept themselves busy only with small-bore stuff. Suddenly 2013 is almost over—and Congress's unfinished business is piling up.
Here's what lawmakers have to deal with by yearend:
1. The Farm Bill: The five-year bill expired last year. Ever since, conservatives in the House have been objecting to doing things the old way, i.e., using the farm bill to fund billions of dollars worth of food stamps. After the spectacular flame-out of a new farm bill in the House this summer, Republican Party leaders are ready to try to reconcile their ideas with Senate counterparts. Trouble is, there's a vast gulf between the amount conservatives want to spend on food stamps and the amount Democrats have pushed for. The House voted in September to cut food stamp spending by $39 billion over a decade; the Senate's version of the legislation would cut the funds by only $4 billion.
2. WRRDA (Pronounced: "Werda"): A two-year bill, this one funds water-related infrastructure, including deepening and widening the Sabine-Neches Waterway on the Texas-Louisiana border, an oil and liquefied natural gas shipping hub. Big business is backing the $8-billion House version that's in play. Lobbyists have been working hard to persuade House conservatives that the spending is worth it. A vote may come as early as Oct. 23.
3. Spying: Since the Edward Snowden revelations, Congress has been under pressure from civil liberties advocates to rein in government spying. A dozen or so proposals to make changes at the U.S. National Security Agency are already floating around; most deal with the secret court that oversees intelligence programs. But there's a rift within the Senate. Judiciary Committee Chairman Patrick Leahy (D-Vt.) has written a bill that would prohibit the NSA from scooping up records in bulk without a warrant, while Bloomberg News's Timothy R. Homan has reported that Senator Dianne Feinstein (D-Calif.), who chairs the Senate Intelligence Committee, is working on a bill that would do the opposite: It would protect the NSA's ability to collect records in bulk.
4. Immigration Reform: It doesn't have to get done. But President Obama, the Democrats, and the Republican Party's biggest donors (big business) really, really want this achieved.
Before it's here, it's on the Bloomberg Terminal.
LEARN MORE