Is Chevron's Stellar Stock Trading at a Pollution Litigation Discount?
Paul M. Barrett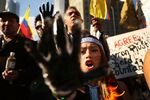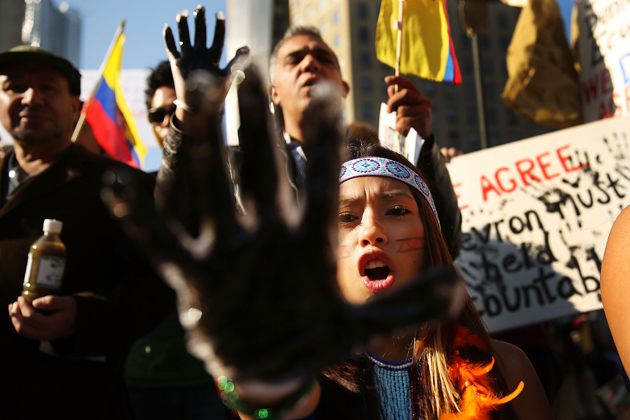 How much value have Chevron shareholders lost as a result of two decades of furious courtroom battle over oil pollution in the rain forest of Ecuador? Sorry to disappoint: It's hard to say.
Whatever dent the Amazonian liability risk has left on Chevron's share price, the San Ramon (Calif.)-based energy titan has outperformed its main rivals and looks like a potentially savvy buy, according to a leading industry analyst. In an informative investment article, the Globe and Mail notes the view of Oppenheimer's Fadel Gheit:
"Chevron has been the best-performing major integrated oil stock this year and the last few years and the last 10 years," said Gheit. "But the stock and the company would have been better off if not for the litigation."
Chevron shares closed slightly higher Friday, at $119.65, reflecting a 5.5 percent gain over the past year.
Gheit's opinion has salience as Chevron's legal team prepares for the second week of an unusual lawsuit in New York, in which the company seeks, in effect, to extinguish a $19 billion liability it faces in Ecuador. That record-setting environmental judgment was handed down by a provincial court in the Amazon in February 2011. Chevron has refused to pay a dime and has few assets in Ecuador. To preclude enforcement of the judgment in third countries, the company is pursuing a civil-racketeering suit against the plaintiffs' lawyer who won the mammoth verdict, Steven Donziger of New York.
If it can discredit Donziger, Chevron assumes the attorney's legal victory—won on behalf of poor rain forest residents—will appear worthless in the eyes of judges in other countries such as Argentina and Canada, where Donziger's allies are seeking enforcement.
Oppenheimer's Gheit told the Globe and Mail that if Chevron succeeds in turning the tables on Donziger, the company's share price would probably rise modestly, adding to the attractiveness of the stock. Still, Gheit has publicly advocated that Chevron settle the environmental litigation, which began in 1993 against Texaco, a company Chevron acquired in 2001.
Chevron has vowed it will never settle with Donziger because it considers him the mastermind of an extortionate plot to shake down the company, an allegation he denies. This week in federal court in New York, Chevron's attorneys will continue to present testimony that Donziger fabricated evidence in Ecuador, bribed judges, and even participated in the "ghostwriting" of the February 2011 judgment—more allegations he denies.
In an e-mail, Chris Gowen, one of Donziger's lawyers, called Chevron's New York counterattack "a disgraceful abuse of the American justice system."
Perhaps even more difficult to calculate than the litigation discount in Chevron's share price is the opportunity cost of management distraction: the time and energy top executives have had to invest in overseeing two decades  of legal maneuvering. Finally, there are the legal fees. All told, it seems fair to estimate that $1 billion has been spent over 20 years. That sum could have cleaned up a lot of contamination in Ecuador, or been invested in finding new oil reserves elsewhere.
Before it's here, it's on the Bloomberg Terminal.
LEARN MORE