Central Banks Are Still a Male Bastion, Despite U.S., Israeli Chiefs
By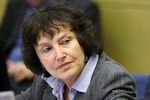 Janet Yellen in the U.S. and Karnit Flug in Israel are poised to join the ranks of central banking chiefs, and it's about time. Unlike lugging a firehose, raising an interest rate doesn't take upper-body strength, so there's no good reason that men should have an edge for the job.
Worldwide, though, Yellen and Flug remain in a small minority. There is not a single woman among the 17 central bank chiefs of the euro zone, nor on the ECB's six-member executive board. The Bank of England's Monetary Policy Committee is solidly male. More women are running the central banks of less-developed countries, including Russia—but those banks are less likely to be truly independent of their governments than the Federal Reserve, the ECB, or the Bank of England.
One reason women are scarce at the top of central banking is that they're outnumbered by men in the fields from which they are drawn—in particular, academic economics. And that's part of a much broader failing. As noted today by Bloomberg View, only about one in five board members of the largest U.S. companies are women, according to Corporate Women Directors International.
Former Secretary of State Hilary Clinton is leading an effort to measure the progress of the world's girls and women, including health care, education, economic equality, and freedom from violence. She hopes to complete the effort by 2015—the 20th anniversary of a groundbreaking United Nations conference on gender issues in Beijing. Somewhere out there is a little girl who will grow up to be another Janet Yellen or Karnit Flug.
Before it's here, it's on the Bloomberg Terminal.
LEARN MORE