B-School Traditions: First Coffee at Darden
Geoff Gloeckler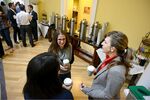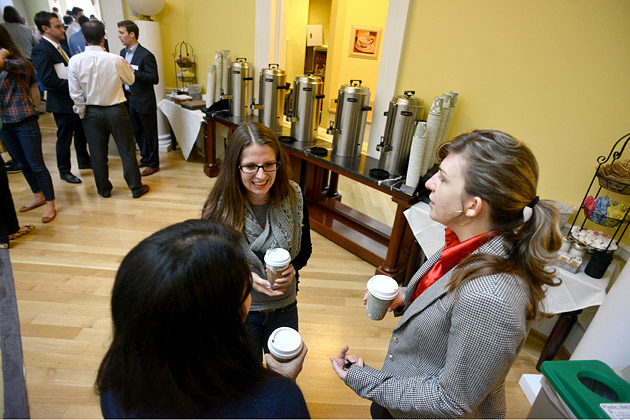 Each morning after the first class of the day, students, staff, faculty, and anyone who happens to be around the University of Virginia's Darden School of Business gather for a half-hour to have a cup of coffee together in a tradition that dates to the school's founding almost 60 years ago. Fittingly, it's called First Coffee.
The informal gathering is sometimes used for announcements, award presentations, or even a performance from the school's Cold Call Chorus, but mostly it's for the Darden community to catch up. In January, Dean Bob Bruner addressed First Coffee in a post on his blog. "To some people, First Coffee might look like a mundane daily routine," Bruner wrote. "Yet it models for us the kind of casual connectivity that business leaders must practice in order to have high impact in their enterprises. From time-to-time we hear about the virtue of Management By Walking Around (MBWA). Darden offers an excellent practicum in this: MBHOAFC (Management By Hanging Out At First Coffee)."
Weather permitting, First Coffee is held in the school's Flagler Court. During the winter months, it's held in the school's PepsiCo forum gathering area. The daily event is sometimes sponsored by companies, and because it's open to anyone, it's fairly common for alumni, recruiters, or visiting corporate leaders to take part.
Join the discussion on the Bloomberg Businessweek Business School Forum, visit us on Facebook, and follow @BWbschools on Twitter.