After Its First Big Sale in Japan, Airbus Wants More
By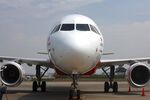 Now that Airbus has gotten a taste of the Japanese market, it wants more—lots more.
Chief Executive Fabrice Brégier, speaking in Tokyo on Monday, said he expects to double Airbus's market share in Japan by 2020, to 25 percent. Within 20 to 25 years, he predicted, Airbus will have 50 percent of the island nation's market, where Boeing until now has had a near-monopoly.
That changed on Oct. 7, when the European planemaker booked an order from Japan Airlines for 31 Airbus A350s, with options for 25 more. At list prices, the order is worth $9.5 billion.
Airbus isn't saying when or with whom it expects to score its next Japan deal. "There are opportunities in all areas," Sophie Pendaries, head of Airbus product marketing said at a briefing at the company's headquarters in Toulouse, France.
The A350, scheduled to enter service next year, competes against two Boeing planes, the 777 widebody and the slightly smaller 787 Dreamliner, which has been plagued with delays and technical glitches. The competition for the JAL order, however, pitted the A350 against a new version of the 777. "I would not make any link" between that order and the 787′s troubles, Pendaries says. But, she adds, "It's clear that the A350 interest is high."
Exactly which other Japanese airlines will embrace the A350 remains to be seen. All Nippon Airways, Japan's other major carrier, was the Dreamliner's first customer and so far has stuck loyally with that plane.
There could be other opportunities for Airbus in Japan, though. The fleets of JAL and All Nippon both have an average age of around 10 years—less than some U.S. carriers but more than many European and Asian airlines. Airbus has introduced an updated version of its A320 single-aisle plane that is selling well. And both JAL and ANA could take a fresh look at the doubledecker Airbus A380, a plane that was designed for crowded Asian hubs but that so far has had disappointing sales.