Clinton Criticizes 'Divisive Politics' on First Campaign Trip
Sandrine Rastello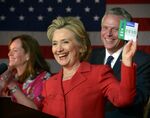 Hillary Clinton urged Virginia voters to reject the type of "divisive politics" epitomized by this month's budget deadlock, in her first campaign-trail appearance since stepping down as U.S. secretary of state.
Speaking at a rally in support of family friend Terry McAuliffe, who's running for governor in the Nov. 5 election, Clinton, 65, said Virginia must lead a return to "common sense," as she alluded to the stalemate over fiscal policy that partially shut the U.S. government for 16 days.
"When politicians choose scorched earth over common ground, when they operate in what I call the 'evidence-free zone,' with ideology trumping everything else, we've seen that families in Virginia and across the country have felt the consequences," Clinton told the crowd in Falls Church, a suburb of Washington, yesterday.
Clinton's 18-minute public appearance for McAuliffe, 56, who served as campaign chairman of her unsuccessful 2008 presidential bid, foreshadows many such requests she's likely to receive as she weighs a potential 2016 White House bid.
"I've been out of politics for a few years now," she told a crowd that included many past and current volunteers for Democratic candidates, some wearing "Ready for Hillary" buttons. "I've had a chance to think a lot about what makes our country so great, what kind of leadership is required to keep it great," she said.
Lawmakers last week voted to pass legislation permitting the U.S. to pay its debts, benefits and salaries, shifting the focus to a new series of deadlines that set up more rounds of political conflict over taxes and spending on programs including Social Security and Medicare.
Virginia Race
"She was right on, on our values and the direction of our country and particularly the fact that the country is looking at Virginia to lead the way into this new era" of inclusiveness, said Glen Moore, 55, in an interview after the event. He said he came to hear McAuliffe and "hopefully our future president."
An NBC News/Marist poll released Oct. 17 showed McAuliffe leading Republican state Attorney General Ken Cuccinelli, 45, by 8 percentage points among likely voters, 46 percent to 38 percent, with Libertarian candidate Robert Sarvis at 9 percent. McAuliffe had a 7-point lead in a survey released Oct. 15 by Virginia's Christopher Newport University, an edge fueled by a 14-point advantage among likely women voters.
McAuliffe is highlighting Cuccinelli's support for defunding the women's health organization Planned Parenthood, an operator of abortion clinics, and legislation recognizing life from the moment of fertilization, which critics contend would lead to a ban on some birth control.
Women's Rights
"The whole country is watching to see if the rights of women and girls will be respected, especially over our own bodies and our health care," said Clinton, who stepped down as secretary of state in February.
Her popularity with women stems in part from the prospect that she could make history in 2016 by being elected the first female U.S. president. Among Democrats, 61 percent say they'd vote for Clinton if the primaries were held now, according to a Quinnipiac University national poll conducted Sept. 23-29. Within that group, 66 percent of women and 54 percent of men say they would back Clinton, also a former U.S. senator from New York and wife of former U.S. President Bill Clinton.
Virginia, once a Republican stronghold, has become a swing state as Democrats have begun winning presidential and U.S. senate races in the state through a combination of demographic changes and policy positions taken by Republicans on issues such as immigration and abortion rights. President Barack Obama won the state in 2008 and 2012.
Clinton's appearance on the campaign trail shows that McAuliffe, the former Democratic National Committee chairman, will bring "Washington, D.C. big-government politics to Richmond," Cuccinelli's Communications Director Richard Cullen said in an e-mailed statement.
Before it's here, it's on the Bloomberg Terminal.
LEARN MORE