The NFL Definitely Is or Is Not Considering Moving More Games to Thursday Night
By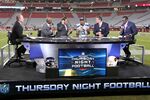 The Wall Street Journal reported on Tuesday that the NFL was considering adding Thursday night games to its schedule in order to sell them to a broadcast partner or possibly Netflix or Google. That story, citing anonymous sources, was quickly batted down by NFL public relations:
The idea bubbled back up this morning at Sports Business Journal, which quotes Cowboys owner Jerry Jones saying, "We could easily have a doubleheader on Thursday. I don't think that is out of the realm of thought, we haven't set up how we will do it." Asked this morning whether the league is considering moving more games to Thursday night, NFL spokesman Brian McCarthy replied with a one-word e-mail: "No." So there you have it.
The NFL schedule currently includes 13 Thursday Night Football games that air on the league's own network. The league first claimed the time slot in 2006. It added five games in 2012. The idea was to spread the league's massive audience across the week and to boost revenue for its fledgling network. That has worked on both counts. The games draw 7 million to 10 million viewers and have helped make the NFL Network into one of the five most expensive channels for cable carriers.
Yet Thursday remains a problem for the league. The ratings lag behind Sunday and Monday games. And the NFL could probably make more money, at least in the short term, selling the games to broadcast partners instead of keeping them for its network. Players complain that the short rest puts them at increased risk of injury, and fans say the games are sloppy.
Adding games, whether for themselves or partners, might make a perverse kind of sense for the NFL. As the WSJ explains, the league already has the wiggle room in its contracts with CBS and Fox to pull games from the Sunday afternoon schedule. And while Thursday night as a one-off, non-marquee matchup is ignorable for all but hometown fans and diehards, a doubleheader is less so. The league probably should consider it.