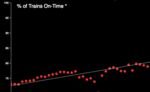 For some cruel reason, five minutes spent waiting on a subway platform often feel much longer than five minutes spent doing just about anything else. This is just one of the laws of public transit. You have to get to work. The train is late. Again. Five minutes suddenly mean that your boss will be angry and all of the coffee will be gone. And now it just feels like you've been standing here forever.
(An aside: I asked my colleague Eric Jaffe if there was any actual science to this phenomenon, and he pointed me instead to this excellent Albert Einstein quote.)
Subway riders deeply attuned to the timing of trains that never seem to run on time probably also recognize this related law: All other trains run more regularly than yours.
In reality, there is actual performance data in many cities tracking the on-time frequency of public transit. The Metropolitan Transportation Authority in New York City releases a metric called "wait assessment" that records how regularly trains show up on time in the city's subway system. It reflects the percentage of trains on a given line that arrive according to their scheduled interval times (give or take 25 percent).
Michael Vanger, a graduate student in analytics at Northwestern University, took all of that data over the last four years and produced a smart interactive visualization of what it really means to wait in New York on the L train (as of June, 82.4 percent of those trains were showing up on time, compared to 75.1 percent in January of 2009).
Vanger's project proves a couple of things for wait-obsessed MTA commuters: Service on many lines has been growing more reliable over the last several years (at the same time, fares have gone up). But your chances of getting an on-time train still significantly depend on the line. Here's the 1 train:

The less impressive 2:

And the M:
The full app is particularly nifty (with bonus points for the nice map feature).
Hat tip: Visualizing.