Sylvester Stallone, Arnold Schwarzenegger, and the Decline of Macho Films
by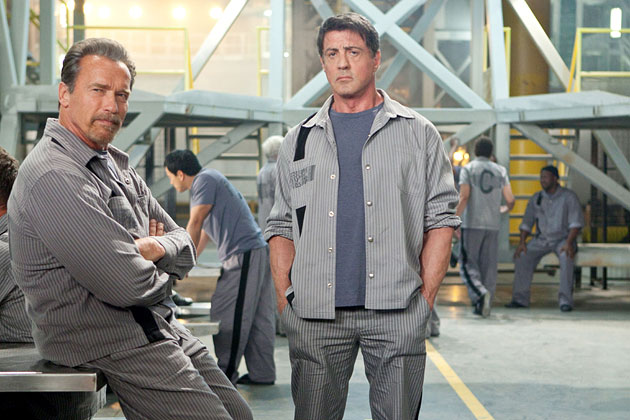 The new action movie Escape Plan stars Sylvester Stallone as a security expert who finds himself incarcerated in a high-tech, futuristic prison. To escape, he joins forces with another aging inmate, played by Arnold Schwarzenegger. For even the biggest die-hard fan of Rambo and Predator, the image is symbolic: The most powerful muscle-bound icons of the 1980s and '90s team up against an ever-evolving technology that they can't destroy with a punch.
Recent box-office figures suggest that our old-fashioned macho men are weaker than ever before. Schwarzenegger's The Last Stand sold $6.2 million in tickets on its opening weekend this past January. Two weeks later, Stallone's Bullet to the Head fared even worse, with $4.5 million in ticket sales. The disappointments pile up like bodies in Total Recall, including Jason Statham's Parker and even the most recent Die Hard movie. Of course, the stars of all four of those films were also in The Expendables 2, which fared somewhat better with a relatively soft $85 million last summer on a budget of $100 million.
"We still have action heroes, but they're mostly action heroes who watch Stephen Colbert," says Michael Kimmel, a professor of sociology at Stony Brook University and the author of Manhood: A Cultural History, who argues that the stone-faced, pumped-up killing machine of old—remember Cobra—is as out of date as your VHS player. Today's movie heroes are often ironic and blithe—think Robert Downey Jr. as the egomaniacal Iron Man—or brooding and sensitive like Liam Neeson in everything he's done over the last few years.
The decline of macho may be part of a larger cultural shift. The promotion of physical fitness, particularly among men and boys, was one of the social cornerstones of the Cold War. Back in December 1960, President-elect John F. Kennedy penned an article for Sports Illustrated called "The Soft American," arguing that fitness and athletic skill were among the foundations of "a vigorous state." That ethos diminished during the political and social turmoil of the late '60s and '70s, but reasserted itself in the '80s, as a Reaganite generation of bulked-up action heroes embodied American might onscreen, even refighting the Vietnam War in films like Rambo: First Blood Part II and Missing in Action. As the Cold War waned, America's attitudes toward machismo began to change—as did our onscreen supermen. Schwarzenegger and Stallone even started making comedies. (Remember Junior?)
So, where does that leave the movies' aging manly men? "When you're a 65-year-old actor toting a gun, you might opt for the Clint Eastwood route," says Keith Simanton, managing editor of IMDb.com. He points out that the Dirty Harry star, in steady box-office decline through the late '80s, gained new relevance as he basked in his own outdatedness and vulnerability, in hits like In the Line of Fire and Gran Torino.
It's not bad advice. Stallone's Rambo: First Blood Part II came out with the tagline "No man, no law, no war can stop him." Escape Plan's tagline? "No one breaks out alone."
Before it's here, it's on the Bloomberg Terminal.
LEARN MORE